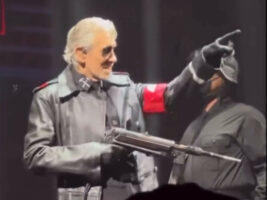 German police investigating Roger Waters over Nazi imagery
Former Pink Floyd singer and bassist Roger Waters is under investigation by German police for wearing a Nazi-like costume during his concert in Berlin on 17 May.
READ MORE: Watch The Cure debut new song, Another Happy Birthday, live on tour
During the concert Waters sparked controversy by  employing Nazi imagery, appearing on stage in a uniform evocative of an SS officer's. Other stage performance were also wearing helmets resembling those of Nazi soldiers.
Waters also displayed an inflatable pig covered in symbols, including a Star of David placed alongside The Wall's crossed hammers and the logos of companies like Shell. Anne Frank's name was also shown on the venue's screens alongside Shireen Abu Akleh's, a Palestinian journalist who was who was shot dead whilst working to cover Israel's operation in the West Bank last year. The controversial performance, which was part of Waters' This Is Not A Drill tour, was met with outrage by many fans and critics, who accused him of trivialising the Holocaust and inciting hatred.
Notably, evoking Nazi imagery and symbols is illegal in Germany. According to HuffPost, Berlin police chief Martin Halweg confirmed that Waters is being investigated on "suspicion of incitement" after his show at the Mercedes-Benz Arena. "The context of the clothing worn is deemed capable of approving, glorifying or justifying the violent and arbitrary rule of the Nazi regime in a manner that violates the dignity of the victims and thereby disrupts public peace," he said. "After the conclusion of the investigation, the case will be forwarded to the Berlin Public Prosecutor's Office for legal assessment."
Waters has not commented on the investigation yet, but he has previously defended his use of fascist imagery as a form of artistic expression and social critique. He has also denied being antisemitic, claiming that his criticism of Israel is based on human rights and international law.
Waters is scheduled to perform in Frankfurt on May 28, where he might face more backlash from local authorities and activists. The city had initially cancelled his concert in April, calling him "one of the most widely known antisemites in the world." However, a court ruled in his favour, stating that his show does "not glorify or relativize the crimes of the Nazis or identify with Nazi racist ideology."
The post German police investigating Roger Waters over Nazi imagery appeared first on Guitar.com | All Things Guitar.
Source: www.guitar-bass.net