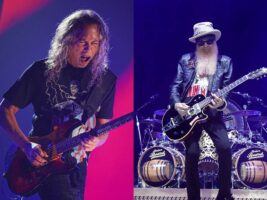 Watch Kirk Hammett and Billy Gibbons duet at Jeff Beck tribute concert
Metallica's Kirk Hammett and ZZ Top's Billy F. Gibbons joined forces with actor Johnny Depp to perform a cover of Jeff Beck's Isolation at a tribute concert for the late guitar legend on 22 May at London's Royal Albert Hall.
READ MORE: Gogol Bordello invites Green Day to perform on Ukraine charity single
The song, originally written by John Lennon, was reimagined by Beck on his 1975 album Blow by Blow. Depp, who was a close friend and collaborator of Beck, handled the vocals, while Hammett and Gibbons added their signature guitar styles to the track.
The concert was one of two shows organized by Eric Clapton to honour Beck, who died on January 10 at the age of 78 after contracting bacterial meningitis. Beck was widely regarded as one of the most influential and innovative guitarists of all time, having played with The Yardbirds, The Jeff Beck Group and as a solo artist. He won eight Grammy Awards and was inducted into the Rock and Roll Hall of Fame twice.
The tribute concert also featured performances by Clapton, Ronnie Wood (The Rolling Stones), Rod Stewart, Gary Clark Jr., Susan Tedeschi, Derek Trucks, John McLaughlin, Joss Stone, Imelda May and more. The show ended with an all-star jam of Going Down, a blues-rock classic popularized by Beck. A second concert took place on 23 May at the same venue.
The post Watch Kirk Hammett and Billy Gibbons duet at Jeff Beck tribute concert appeared first on Guitar.com | All Things Guitar.
Source: www.guitar-bass.net