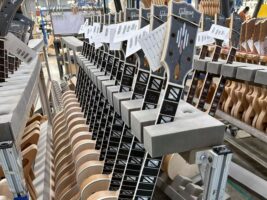 Gibson CEO Cesar Gueikian hints the return of the Les Paul Supreme
Gibson CEO and Brand President Cesar Gueikian has hinted at the return of the iconic Les Paul Supreme in a new social media post.
READ MORE: "Particular guitars can allow a special access to creative freedom": Rob Chapman responds to Steve Lukather's comments on gear
Last week, the Gibson executive shared a picture of a bunch of work-in-progress Les Pauls sitting at the company's factory line in Nashville, Tennessee, along with the caption "A Supreme Friday to be at our Craftory!".
A closer look at the guitars in the post reveal features such as a multi-ply binding on the instrument's headstock, split block inlays on an ebony fretboard, and a classy mother of pearl headstock inlay.
View this post on Instagram
A post shared by Cesar (Gibson) (@gueikian)
Originally released in 2003, the Les Paul Supreme was launched with the intention of creating a 'new Les Paul'. The guitar famously sports a carved maple back and a deeper chambered body, coupled with gold hardware and unique abalone globe inlay on the headstock.
Aside from Gueikian's Instagram, the Les Paul Supreme's return has also been discussed on Trogly's Guitar Show, though there are some differences between the model featured on the YouTube channel and the one on Gueikian's account.
For one, the new guitars look to have plain tops instead of an AAA maple top; they also come loaded with a triple humbucker configuration instead of the expected dual-humbucker set.
Check out the video below.
In other news, Gibson today announced a new store, the Gibson Garage London, which will open its doors in the English capital in early 2024.
It will allow customers to plug in and play more than 300 electric and acoustic guitars from the Gibson Family of brands, catch live performances and more in a 4,500 square-foot retail environment.
The post Gibson CEO Cesar Gueikian hints the return of the Les Paul Supreme appeared first on Guitar.com | All Things Guitar.
Source: www.guitar-bass.net