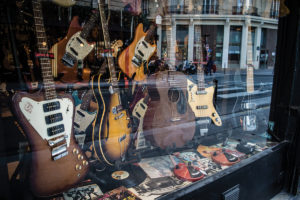 Guitar Safari: Parisian Walkways
If you can tear yourself away from the art museums, bistros and bars, Paris has more than enough music shops to justify a trip. Huw Price goes on vintage guitar safari in 'Music Village'…
Atrip to Paris in late November might not seem like the best time of year to walk down the Seine with your better half – but who cares about romance when you're guitar shopping? And that's exactly why a mate of mine planned a trip at the end of last year – he was in the market for a vintage guitar and had located some potential winners in the City Of Love.
Feeling a bit apprehensive about making the trip alone, he asked me if I'd tag along on his jaunt to provide dispassionate advice and moral support in return for a steady supply of quality local beer. After thinking it over carefully for roughly a nanosecond, I agreed.
Guitare Collection's store front is replete with lively vintage guitars
At this point you may be wondering why we decided to go to Paris? Well, he couldn't find the guitar he wanted in the UK, and while a guitar hunt in New York or Nashville might have been more exotic, there's something to be said for buying in the EU. For one, major European cities are a lot quicker and cheaper to get to than crossing the Atlantic, and there's also the import duties to consider – they don't apply in EU member states, so for the time being at least, that's a real saving.
With just the right amount of lacquer checking this '56 Les Paul Junior is ready for gigging
Additionally, CITES regulations make it problematic to bring guitars with rosewood parts from the US to the UK. If the rosewood is Brazilian, you run the risk of having your guitar impounded. None of the above applies if you're travelling within Europe.
Guitare Collection's owner is partial to Italian-made made Wandres, and seeing three together was a rare treat
The shops we were heading for are in Rue Victor-Massé in the 9th Arrondissement. The area, which also includes Rue de Douai and Fontaine, is known as 'Music Village', and entering from Rue Condorcet, things got very exciting very quickly. There is no aura of a place that has seen its glory days long past – this is a vibrant multifaceted sweet shop for musicians.
We say musicians because Music Village is more than just guitar shops – the boutiques in the area tend to specialise in a specific thing – and before we hit the main cluster of guitar shops, we'd already spotted a microphone shop (Le Microphone), a studio shop (Home Studio) and a drum shop (L'Atelier).
Both these Mustangs were finished in Competition Orange but the bass has faded more than the guitar
Even among guitar shops, some specialise further – so for example La Pédale deals exclusively in effects pedals while L'Ampli à Lampes is all about amps and valves. And we'll give you no prizes for guessing what kind of instruments Metal Guitars, Bass Center and Bass Maniac specialise in. There are also acoustic shops, including Acoustic System and the impressive Acoustic & Jazz.
Guitare Collection's stock of vintage acoustics included three mid-60s Gibsons and a '56 Martin
For general purpose music shops with big name brands, the choice includes California, Centrale Guitars, Guitar Store, Le Gaucher, Cham Music and Guitar Legend. Given the number of shops in the area, we restricted ourselves to the four vintage-specialised shops to stop us from getting overwhelmed…
The 'Jazz Wall' highlights include two mid-50s ES-175s, a '49 Charlie Christian, a '52 Gretsch Synchromatic II and a 1960 Anniversary
Guitare Collection
Rue Henry Monnier and Rue Frochot bisect Rue Victor-Massé and most of the cool guitar action happens to the west of the intersection. Guitare Collection is the first guitar shop on the right and we buzzed for entry. The owner may be getting on, but he still dresses like a rockstar – and pulls it off with typical Gallic flair. Shop manager Jeremy speaks perfect English, and made us very welcome.
This elegantly aged '62 Strat puts a smile on the face of shop manager Jeremy
The quality and quantity of vintage guitars is jaw dropping. There are no shortage of vintage Strats, Tele highlights include a '68 with factory-fitted Bigsby and a '69 Thinline, while a Candy Apple Red Jaguar butts horns with Custom Colour Mustangs.
All of the Fenders are organised by model and hang on the left wall of the shop
Bassists are well catered for, as are fans of classic Gibsons, with the Les Pauls including a 1956 P-90/Staple Custom, a '53 Goldtop, a single-cut '56 Junior and a 1960 Special. You can also take your pick from four pre-1965 ES semis in Cherry and Sunbust.
Walking through the centre of the shop takes us past the acoustics, to the 'Jazz Wall'. If archtops are your thing you can try various Gibsons, Epiphones and Gretsches.
Shop assistant Alex holds two of Woodstore's vintage Telecasters – a 1962 Custom and a 1970
Apparently GC's owner was once friends with Salvador Dali, and you wonder if that influenced his taste, as he has some seriously strange vintage European stuff, including three Wandres from the owner's personal collection – reputedly the world's biggest.
Woodstore
A few doors down is Woodstore, and the vibe in here is far funkier and more chilled. Owner Julien provided coffee and people were constantly popping in to chat and hang out.
Woodstore was the first shop that we visited on our trip around Music Village
Woodstore has less stock than Guitare Collection, but it's similarly diverse. Basses are scarce, but Woodstore has a wider offset selection including a '65 12-string and an Olympic White Bass VI. It's also the only shop here a display of collectable vintage pedals.
Custom colour vintage Strat fans would love this pair – a Candy Apple Red and seldom seen Sea Foam Green model
Wandering around, you'll see a refinished '57 Strat hanging next to a '64 Candy Apple Red and a transition logo Seafoam Green. It's also not short of Gibsons, including a mid-50s Les Paul Custom, a Dot ES-335, a Trini Lopez and a '54 Goldtop. Not only is this my favourite shop on the street, it's one of the best guitar shops I've ever visited anywhere.
This collection of vintage Ibanez pedals includes an ultra-rare OD-9 overdrive made exclusively for the French market
Point 2 Point
Point 2 Point was our next stop. It's more of a regular guitar shop – but with a ton of vintage in amongst newer guitars, pedals and amps. There's a mix of vintage Martin and Gibson acoustics, along with some great old electrics.
This 1955 Les Paul Custom with a P-90 in the bridge and a Staple P-90 in the neck was one of three we found on Rue Victor-Massé
The vibe is more eclectic, and they even have a Martin GT66 – a guitar I'd never seen in the flesh before. Gibsons include a Melody Maker, Junior, a first year ES-175, a pair of ES-125s, a '64 ES-345 and ES-330 from 1965. One brand that does seem to be underrepresented in Paris is Gretsch, but we enjoyed trying out a 1960 6128 Duo Jet. P2P doesn't have the best selection of vintage Fenders either, but there is a clean Sunburst Strat and one of the prettiest Teles we've ever seen in Fiesta Red.
Although Recording King acoustics are now made in Asia, this 1940 example was probably made by Gibson
It's clear that P2P spend their money on guitars, not on lavish decor, but don't let that put you off as it contains some real gems. Manager Fred speaks good English and he was happy for us to try whatever we fancied.
This transition logo Strat retained its vibrant sunburst and Fiesta Red is rare for a 1962 Tele
Vintage Guitar
Located a few doors down, this shop was our last stop and entering it was like stepping back in time. The first thing that hits you is the smell – it's like walking into a mouldy guitar case. The next throwback came from the owner, whose demeanour to us on entry could best be described as brusque.
Point 2 Point is a large shop that features a variety of new and vintage instruments
Since Vintage Guitar's owner is an old jazzer, much of the stock includes semis and archtops. Vintage amps are scarce on this street, so it was good to see a Gibson EH185 and a GA40 on display. Here we also encountered our third dot-neck ES-335 of the day and our second Charlie Christian.
Tucked inside Point 2 Point's soundproofed amp demo room we found this vintage Marshall amp and PA columns
Strats include a transition logo Fiesta Red, a Sunburst and a refinished '57. Here we were informed that an early 60s slab board covered in brown varnish was 'stripped' rather than 'refinished' and as such, was worth more…
The first thing we saw as we walked into Point 2 Point was this pre-CBS Jazzmaster on the counter being set up and re-strung for display
The highlight of Vintage Guitar for us was probably a D'Angelico New Yorker, but there are some fine Teles, an ES-330, an ES-125 and a very nice 1930s National amongst the treasures to be found.
If you're in the market for some lovely old instruments with a side-order of good ol' fashioned guitar shop condescension, then Vintage Guitar is the place to be. And while the owner did warm up after a while, all the other shops in Music City were simply too friendly, helpful and welcoming, so we soon beat a retreat.
If quirky vintage semi-hollows are your thing, check out this 1960 Airline S-65 and rare 1966 Martin GT70
My guitar-hunting travel partner eventually came away with the dream guitar he'd been hoping for when we first set foot on Rue Victor-Massé. While he'd understandably prefer us not to mention exactly what he came away with, I can heartily endorse an overseas guitar-shopping trip as a fine way to spend a day or so – you won't regret it!
Vintage Guitars isn't the most modern shop inside or out, but there are some gems inside
How to get there
We went with Flybe, but budget airlines fly to Charles De Gaulle from most UK airports. It's a short walk from the terminal to the train platform for Gare Du Nord, and you can be in the centre of Paris in around 30 minutes. Rue Victor-Massé is about 15 minutes from Gare Du Nord station and three minutes from Pigalle Metro on foot.
Although Vintage Guitars tends to specialise in archtops, there were plenty of semis and fine solidbodies to choose from
Getting there was the easy bit. Unfortunately, we were obliged to buy one-way tickets, because Flybe Airlines do not allow you to book seats for musical instruments unless they happen to be cellos, oddly. We were obliged to return via Eurostar and train, which added around seven hours to the journey.
Vintage Guitars described the finish on this 1932 National Duolian as 'Frosted Duco'
Flybe claims its policy is based on safety legislation set by the Civil Aviation Authority, but our research suggests this is unlikely. So long as you pay for a seat, EasyJet, BMI Regional and RyanAir all allow guitar cases to be brought on board their flights. So, check with your airline before booking and if the guitar you want can't be disassembled and carried with your hand luggage, we'd advise choosing a different airline!
The handle probably can't be trusted, but this Gibson EH185 is otherwise in great shape
Things to consider
We had a fantastic time hanging out on the Rue Victor-Massé, and we wholeheartedly recommend it to any musician who wants to spend a day immersing themselves in a cornucopia of beautiful instruments.
This refinished '57 Strat hangs in front of a 1975 model in original Olympic White
However, it's worth going in with the knowledge that the shop staff are understandably protective of their guitars, and they are experienced enough to distinguish between gawkers and genuine customers. Bear that in mind when you're browsing – if you restrict yourself to trying only one or two guitars then nobody will mind.
If you are planning a trip, remember the shops open between 10am and 5pm with a two-hour lunch break – and timings are loosely adhered to. They're also closed Sundays and Mondays.
You won't find price tags on any of the vintage gear, so you'll have to ask. You can expect prices to be roughly comparable to what you'd pay in the UK, though as with any guitar shop, they're expecting you to haggle.The post Guitar Safari: Parisian Walkways appeared first on The Guitar Magazine.
Source: www.guitar-bass.net