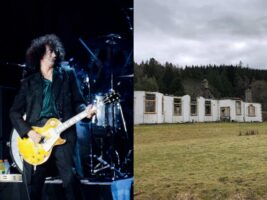 Haunted manor owned by Aleister Crowley and Jimmy Page is opening to tourists
A now abandoned Scottish mansion with a long history of beheadings and hauntings, that was once owned by Jimmy Page, has opened it's doors to the public.
READ MORE: Former Ted Nugent guitarist says the rocker's politics have "hurt" his legacy
Boleskine House, which is on the banks of the notorious Loch Ness, was bought by occultist Aleister Crowley in 1889. He used the manor for multiple rituals, including the infamously lengthy and intense Abramelin ritual. As legend has it, Crowley completed the early part of the ritual that involved summoning the 12 dukes and kings of Hell – but was then called to Paris before dispelling the demons, leaving the house haunted and invoking a number of unpleasant happenings.
It was then purchased by the Led Zeppelin guitarist in 1971, five years after a previous owner shot himself in what had been Crowley's bedroom.
It was built in the 18th century by a member of the Fraser clan. Adding to the dark lore around it, legend says the house replaced a church that burnt down while the congregation was inside, killing everyone.
Page began to show interest in Crowley's work during his teenage years, after finding a copy of Crowley's monograph, Magick. His affinity for Crowley and the occult was evident even before he purchased Boleskine manor:  Led Zeppelin III's vinyl pressing was inscribed with the Thelemic phrase "do what thou wilt", and the symbols ascribed to each band member on Led Zeppelin IV were inspired by sigil magic.
"The bad vibes were already there," Page told Rolling Stone in 1975. "A man was beheaded there and sometimes you can hear his head rolling down…Of course, after Crowley there have been suicides, people carted off to mental hospitals."
Page sold the house in 1992, before it burnt down in 2015, and again in 2019. Since then, the foundation took ownership and began renovations on the property.
Boleskin House will be open to the public from tomorrow (23 May).
For more information about Page's haunted mansion, you can head to BoleskinHouse.org.
The post Haunted manor owned by Aleister Crowley and Jimmy Page is opening to tourists appeared first on Guitar.com | All Things Guitar.
Source: www.guitar-bass.net