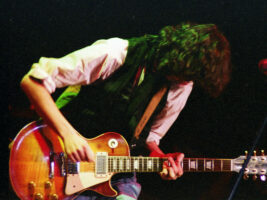 Have you been playing Led Zeppelin's Whole Lotta Love wrong this whole time?
Let's face it: it's one of the greatest guitar riffs of all time. Led Zeppelin's Whole Lotta Love sets the bar for and strikes the perfect balance between compositional simplicity and raw rock power.
READ MORE: "Never talk to anyone in the band unless they first talk to you": The rules journalists had to follow when interviewing Led Zeppelin
And since it's been around for years – Whole Lotta Love was first released in 1969, 54 years ago – we'd bet you've had a go at playing it yourself.
But while more astute guitarists can recognise the subtle nuances of an otherwise gloriously simple riff, others might not be aware of one of its key components, which Eagles guitarist Joe Walsh highlights in a newly resurfaced Instagram post.
While many guitarists play the riff's signature turnaround solely on the A string, as Walsh says, to get closer to the way Jimmy Page played it on record, you should bend the note on the 5th fret of the A string while simultaneously playing the open D string below it.
This creates a continuous, gradual and minor change in pitch which helps give the riff its signature sound.
"You hear that? That's what [Jimmy Page] is doing. Took me a while to figure that one out," Walsh says.
You can hear the Eagles guitarist play both versions of the riff below, so you can better hear the subtle difference.
View this post on Instagram
A post shared by JoeWalsh_fanclub (@joewalsh_fanclub)
In more Led Zeppelin news, a documentary recently launched charting the quest of one Jimmy Page superfan to transform into and the channel the guitar legend.
"I want to be Jimmy Page," star Akio Sakurai says in the trailer. "To play this music in a lackluster way, would be inexcusable… I just want to express the magic of Jimmy Page. That's all."
The post Have you been playing Led Zeppelin's Whole Lotta Love wrong this whole time? appeared first on Guitar.com | All Things Guitar.
Source: www.guitar-bass.net