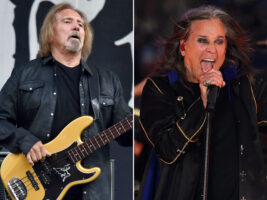 "I always thought Ozzy was a genius for coming up with the melodies that he did": Geezer Butler on his former Black Sabbath bandmate's vocal prowess
Black Sabbath bassist Geezer Butler says he thinks Ozzy Osbourne is a "genius".
Speaking on The Rock Experience with Mike Brunn, he takes a look back at his career with the metal pioneers, explaining why he wrote most of the band's lyrics. When asked if writing lyrics came easy to him, he explains that as he was always a big reader and writer, it "came naturally" – but what about the man who actually sang the lyrics?
Butler is asked if he ever suggested to Osbourne that he should change up any of his vocal melodies.
"No, not at all. I always thought Ozzy was a genius for coming up with the melodies that he did, especially on songs like Black Sabbath… So it must have been so hard. It was natural for him.
"But it's a very strange song to sing, to make up a melody to sing to. He was always brilliant at doing that and usually wrote right off the top of his head. He came out with these great melodies, and I think that's what made it easy for me."
Butler adds that the emotion in the Black Sabbath frontman's vocals complemented the lyrics expertly.
"Because there's so much emotion in it – so much feeling that he used to put in it – that it was easy for me to put the lyrics to it," he says.
This comes days after Osbourne gave an update on his health, following the cancellation of his set at Power Trip festival in October.
He shared on his Ozzy Speaks radio show that he recently had a blood clot filter removed from an artery, but reassured fans that it sounds "worse than it is"
You can watch the interview below:
The post "I always thought Ozzy was a genius for coming up with the melodies that he did": Geezer Butler on his former Black Sabbath bandmate's vocal prowess appeared first on Guitar.com | All Things Guitar.
Source: www.guitar-bass.net