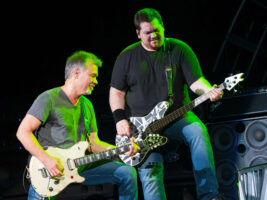 "I feel like that can only take you so far": Wolfgang Van Halen on appealing to Eddie Van Halen's fanbase
Wolfgang Van Halen has shared that it feels "flattering" that people are starting to view him as his own person.
As the son of guitar legend Eddie Van Halen, the rocker has shared relief that he has become known for his own ability, and most prominently his work in his own band, Mammoth WVH.
READ MORE: "We were all just kind of shocked during even soundcheck": Wolfgang Van Halen on opening for Metallica on M72 tour
Being the only son of a guitar icon naturally means you spend a lot of your time discussing their legacy, and even more so when you're a guitarist yourself.
But whilst WVH has found his own ways to honour his father, such as performing at the Taylor Hawkins Tribute Concerts – he's forged his own musical career, and has even contributed to the recent Barbie film soundtrack alongside Slash.
In a new interview with Guitar.com, Wolfgang shared that "luckily, and thankfully" he's starting to be seen as himself first, and Eddie's son second.
"I see people being a fan of the music first and then only then realising, 'Oh shit, I had no idea you [were Eddie Van Halen's son]. That's a really huge compliment because I feel like that can only take you so far, and being a fan of my father doesn't necessarily mean you're a fan of the music that I make," he says.
"It's really flattering to see people view me as my own person. I'm gonna be myself whether or not anybody has a problem with it."
Wolfgang joined Van Halen at just 16 when they participated in a reunion tour in 2007. He took over Michael Anthony's position on bass in a time which he compared to being "fired out of a cannon" in an interview for the print edition of Classic Rock.
"I was there to support my dad, but I was aware that I'd become the biggest enemy of every 40- to 50-year-old man out there in the world," he explains. "It was something I didn't know how to handle. That did a lot of damage to me.
"It was a lot of pressure, but we had rehearsed constantly, to the point where those songs were in my bones. And luckily nobody was staring at me – they were staring at Eddie Van Halen and David Lee Roth on the stage together – so I got to lay back and do my part."
Wolfgang's band Mammoth WVH is set to release their second record, Mammoth II tomorrow (4 August). You can find out more, and get tickets to see them live from their official website.
The post "I feel like that can only take you so far": Wolfgang Van Halen on appealing to Eddie Van Halen's fanbase appeared first on Guitar.com | All Things Guitar.
Source: www.guitar-bass.net