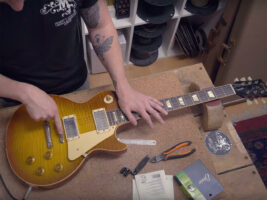 Why refurbished and 'like-new' gear might become the next big trend in guitar
The buying and selling of used gear has been a foundational part of the guitar world since musicians started taking out classified ads in the back of the NME and Melody Maker during the 60s guitar boom. But the definition of used gear is changing, and it's doing so in response to a significant trend in the consumer electronics world.
READ MORE: Trent Guitars is building instruments with a climate-conscious ethos
If you've owned a smartphone in the last decade or so, you've probably at some point sold your old handset to a retailer or reseller who will proceed to refurbish said phone until it's effectively as good as new – you might even have bought one and be reading this story on a refurbished iPhone right now.
The trend might have started with cellphones but the refurbished 'like new' category has quickly become a significant part of the tech world, offering a lower-cost means for people to get the latest gadgets in their hands – it's also better for the environment as it means fewer 'new' devices will be needed as the older ones are being recycled.
The guitar world has been slow to pick up on this trend, but that might well be about to change – online gear marketplace Reverb added the 'Like New' option to its seller descriptions a year or two back, and since then the category has seen significant growth. In the second quarter of 2023, sales of Like New gear on Reverb rose by 18% versus the same period the year before, "You often see the words refurbished or B-stock next to a phone or computer deal. You see it less when talking about guitars — but that's changing, and fast," Reverb's Jim Tuerk tells us.
Like-new guitars, amps and effects will have been inspected by the retailer to ensure they're good as new
So what is the difference between good ol' fashioned used gear and 'Like New'? Well, it's pretty simple – these can be ex-demo units from a retailer, items that were opened and returned, or those that have a minor cosmetic imperfection.
"We've all been to shops that have a guitar that's floating around the pedal testing room. It might have the tags on it, but it's a little more broken-in than one right out of the box," Teurk explains. "That's the kind of like-new gear that both looks and feels great, and will help you save a nice chunk of change. Thanks to pre-shipment inspections and tune ups, you know you'll get a guitar that meets your expectations. I mean, you're probably going to put some marks on it after you play it for awhile anyway, so why not save yourself some money?"
The consumer benefit is significant, as Chris Van Den Berg, Web Manager & Purchasing at Pixel Pro Audio explains: "With a B-stock product, customers get high-quality gear that might have some minor scuffs or dings and usually with a manufacturer warranty to back it up at a more economical price point. This makes it a very attractive option that is definitely worth considering."
The world of guitar is changing fast, and we're all having to reckon with the environmental cost of our consumerism as climate change's consequences get more significant with each passing year. Shopping 'like new' instead of brand new when it comes to guitars, amps and effects might be one simple way for us to help reduce waste – same GAS, less greenhouse gas, everyone wins.
The post Why refurbished and 'like-new' gear might become the next big trend in guitar appeared first on Guitar.com | All Things Guitar.
Source: www.guitar-bass.net