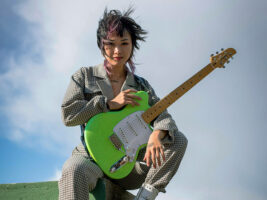 "I love pushing the sound of the guitar and getting it to do things that people don't usually think it can do" Yvette Young on Covet's new album and her approach to guitar
Yvette Young could be forgiven for finding the last few years something of a blur. The self-taught guitarist began posting videos of her dazzling and musical displays of tapping virtuosity over a decade ago now, but in the last five years her career has skyrocketed – on the back of two outstanding records with her math-rock band Covet, with Effloresce (2018) and Technicolor (2020).
READ MORE: "Maybe I'd move to Japan and try and be an English teacher!" Mastodon's Bill Kelliher on the future of the band, his love of Les Pauls and what he'd do if he wasn't in the band
Young's inventiveness as a guitarist sets her apart from the myriad other technical maestros out there, and this polyphonic wizardry has seen her become one of the most respected names in modern guitar culture.
Endorsements have followed – a series signature Ibanez Talman guitars (the YY10 and YY20) being the most notable, but also deals with Yamaha, Harmony, Mono and more. With all that on the dance card, plus the small matter of overhauling Covet's line-up and touring all over the world, it's little wonder that we haven't heard much from her in the way of new music since 2020.
But all that is about to change. Covet's third long-player, Catharsis will arrive on 7 April, and the album's teaser – the joyful Firebird – showcases Young in a more ebullient mood than we've seen before. We had to find out what gives…
Where do you draw inspiration from?
"I've never been interested in being a 'shredder' or whatever. I've always been more interested in making the things in my head come to life and being able to play those things. So, I think what inspires me to push myself on my instrument is chasing those melodies and those ideas and being able to execute them in the way I want.
"So, there's that, and the other thing is sonic storytelling. I love using effects and different textures with the guitar that allow me to make the stories in my head come to life. I guess I like making people feel stuff with music."
Do current trends influence you at all?
"I grew up listening to classical music, and then, of course, I got really into post-rock and shoegaze. I've always been interested in taking everything I love about multiple genres and trying to fuse them into one sound. But that sound doesn't have to be cohesive; I'd rather it be a sound that can't really be defined.
"Lately, I've been listening to a lot of electronic music and more, almost like hyper-pop stuff. I've been interested in trying to create catchiness with the music and make it dance the same way that some electronic music makes you want to dance."
Some time ago, you mentioned that you feel like an outsider in the world of guitar. Can you elaborate on that?
"I totally feel like an outsider. I taught myself guitar, so there's that. I was never allowed to listen to rock music until much later, so growing up listening to mostly classical, orchestral, acoustic, and folk stuff left me feeling that I was a little late to the game. I just started listening to Van Halen maybe two years ago. And then I got introduced to Metallica about three years ago, so I'm such an outsider when it comes to rock guitar.
"But I have to say; it's really inspiring because I feel like people who have been playing this stuff for a long time are somewhat cynical. But I constantly feel like I have more room to grow. I love pushing the sound of the guitar and getting it to do things that people don't usually think it can do, especially with the help of pedals and stuff."
How do you find a middle ground between the head and the heart from a compositional standpoint?
"I would say that I'm 100 per cent heart. Initially, I sing all my melodies and try to be lyrical about how I compose my parts and solos. I think a successful part, for me at least, is if people can hum it back after they've heard it. I really value that in music. I love it when something gets stuck in someone's head because it's gonna make them want to listen to it. It kind of scratches an itch.
"I'm obsessed with writing melodies that stick with you. The interesting thing is that I initially can't play the things I write at all, and I then have to piece them together after the fact. I compile a bunch of takes and then teach myself by stringing them together. But through that, I get better at the instrument, too. I don't overthink it initially and let it come to me naturally, and I feel that gives a more authentic product in the end."
View this post on Instagram
A post shared by Yvette Young (@yvetteyoung)
Which tunings and phrasings do you lean on most when writing new music?
"Lately, I've been sticking to just one tuning, to be honest. The whole new record is pretty much FACGCE. I just got tired of always having to change my tunings and having intonation stuff happen. And I guess, in terms of phrasing, I love to find ways for different parts of the song to interact with each other.
"Now that I'm writing for my band and not just myself, I'm like, 'How can I make this music interactive and gels as one cohesive piece?' I think my nature of having my writing be lyrical, things end up flowing in an interesting way. I don't want things to be on a grid; I want natural syncopation and dotting. I want my guitar parts to sound almost like a conversation."
What message are you trying to convey through that conversation?
"I want my music to move people. I don't think people want to play guitar if they feel like it's too challenging and difficult or out of their league. I'm certainly not trying to make it a sport; I'd rather have it be like, 'Look, this is so fun and sick. I'm having a blast. It's making me feel stuff.'
"Hopefully, it makes the people who hear it feel stuff. You can tell stories with music, even without lyrics. You don't need lyrics because the melody itself can sometimes be even more powerful. With a strong melody, you're not dictating what is supposed to be heard. If you leave things to the imagination, it's really exciting."
Is there one song you're currently working on that best reflects who you are as a guitarist today?
"Yes, it's off the new album that's coming out on 7 April. We're dropping a single, which is called Catharsis. That song definitely reflects my current state of playing, I think. But I'm also currently working on writing with a string orchestra, and I'm going to play guitar and perform it in June of 2023.
"I'm proud of that because it's like a hybrid between my upbringing, which was classical, and then I'm infusing the rock elements and merging the two genres. I'm excited about how it's gonna turn out. I've never done anything like it, and I agreed to do it, not really knowing how I was going to make it happen [Laughs]. But I'm doing it, and it's so fun."
Can you give any further information about Catharsis?
"I started writing the songs during quarantine. I think the downtime during the pandemic gave me a lot of time to actually write, so that was important for me. A lot of these songs are inspired by demos, and I tried to make all the songs tell a different story. The overall theme is escaping to a fantasy world, and each song is a theme song for a certain character. I can't reveal too much more just yet, but I'm very excited about it. I hope the whole thing flows smoothly from front to back. It's the first time I tried to do anything like that."
Image: Eli Chavez
How would you mark the progression from Technicolor to this new record?
"People's interests shift, right? Inevitably, as a musician, the things you're interested in when you're like 20 are gonna be different things you're interested in when you're 30. And I feel like; for me, I really leaned into the idea that I don't care so much about shredding per se. At this point, I care about melody and conveying emotion. I feel like the way that I play has transformed to where I'm using a pick in some sections, bending differently, using fuzz, and all these sounds that I have never explored before.
"My language as a guitarist has expanded over the last couple of years. I'm more confident, and my storytelling abilities are greater now that I have a bigger arsenal of sounds. And the lineup on this record is different; I used a session bassist, John Button, and Brandon [Dove] will be touring with us. And these are the first songs with my new drummer, Jessica [Burdeaux].
Does having new members in Covet inspire your creativity?
"Well, Brandon and Jessica weren't a part of the creation of this record. Ultimately, this record was, like every Covet record, created by me. I wrote all the music, but I think when we play live, you'll hear how things have transformed, and you'll also see that with these new songs, it's less about shredding. It's more about getting people to move and dance and making guitar look fun and inviting rather than saying you can't hang with us."
How many guitars did you bring to the party during the recording of this record?
"Just two. I'm still sticking with my signature Ibanez YY10. I've been using it for so long, so it's the thing that I'm most fluent and comfortable with. I know how to get the pickups on it to break up the way I want it. I know how it interacts with the pedals, so it's the perfect guitar for me."
Are there any guitars you've played in the past that you don't care for?
"There aren't any other guitars that I don't like per se. In the past, I played stuff with EMGs, and they're totally valid and great, but I'm more of a single-coil girl. I need dynamics. So, it's not that I didn't like those guitars, it's more like when you pick up something, and it's like, 'Oh, yeah, this is an extension of me.' That's what the Talman feels like to me."
Do you use vintage guitars at all?
"I have a vintage Talman that I love a lot. The pickups are a little sassy for me; I think they're old-school lipstick pickups from the 60s. I do like them, just not for Covet music. I'd use that guitar with those pickups for my solo stuff, for sure. I haven't been able to write for solo stuff for six years because I've had no time, but I'm planning to make time for that next year once things with Covet wind down."
Image: Jack Lue
As far as pedals and amps are concerned, what are you currently deploying?
"I love my Carbon Copy Deluxe. I have an Electronic Audio Experience Longsword, which I'm really loving of late. For fuzz, I'm using a Zvex Mastotron, and I have a Hologram Microcosm that lets me do all kinds of crazy things. It's really fun. And then, I also have a DigiTech FreqOut that's wonderful for generating pitched feedback the way I like it.
"For reverb, I use a Meris Mercury7; I love that one. Of course, I've got the Boss OC-5, which has become a quintessential part of my sound. I have a Boss DD-3T as well that I use for stutters. The last ones are the Julianna Deluxe Chorus from Walrus Audio and the Tri-Chorus Plus by Neunaber. For amps, I've fallen in love with the JC-40 from Roland. I still use the Vox AC30 in the studio, and at home, I still use the Vox AC10. It all depends on the headroom."
In the past, you've used Seymour Duncan pickups. What are you using now?
"I'm currently in pickup transition mode. I'm trying to figure out how to develop that sound further and get it more on a custom, granular level. I like pickups where I can lean back and get things sparkly and clean sound, but then push in and get the tubes in the amp to break up with them.
"I've been testing out Wilkinson pickups, but I'm currently using a set of custom DiMarzio pickups. They're based on the Blue Velvet DP170 pickups, and I'm liking them so far. And I'm also looking into Lollar pickups and am open to exploring that option as well."
View this post on Instagram
A post shared by Yvette Young (@yvetteyoung)
Are you open to using Kempers and the like in the live setting, or are you locked into traditional tube amps?
"I am absolutely not opposed to Kempers [Laughs]. Tube amps can be kind of unreliable, and I've had my tube amps straight up break down on me during tours. Technology is continuing to improve; I do a lot of stuff that way when I'm recording because I do appreciate the idea of it. For me, the appeal is you can basically audition your chain effects chain easily.
"Sometimes it's a lot easier than dragging stuff around and messing with cables where you feel like you're dismantling a bomb or something [Laughs]. I think it's fun to have both, and I think both can co-habitat. They both have their place, and they both have their pros and cons. I have been looking into potentially using a Kemper because it makes travelling much easier."
What are some challenges in keeping people's attention in the split-second world we find ourselves in today?
"I think rather than being focused on getting people's attention for me; I get the most security and comfort from knowing that I've created something that is potentially timeless. Now, I'm not trying to say that my music is timeless. Of course, things have their hot moments, and trends come and go. But I think a good melody is timeless. I think catchy music is timeless. I think emotional music is timeless.
"Everyone turns to emotion for sympathy and empathy. People turn to music when they need someone to be compassionate, something to have compassion for their situation or get them through hard times. So, these are the concepts of music that I feel like I want to focus on. I don't have to be worried like, 'I'm gonna hop on a trend right now,' and maybe it's not cool a week later. If you have a cool product, people will notice it anyway. If I became too obsessed with getting people's attention, I'd probably lose some integrity.
Image: Jack Lue
What are you most excited about, and what's next?
"I'm the most excited to keep on writing. I love writing. I always tell people that the three things I love most about being a musician are writing first, recording second, and performing third. With recording, it's like the dream version of your whatever you've made. You can be hedonistic, which is always fun.
"I'm just really excited to get new music out. It's been a while, and this album has taken some time just because I decided I wanted to have a new lineup halfway through the record. And I really can't wait for solo stuff. I feel like it's been like six years coming, and I'm ready for it. But the new Covet record comes out on April 7, and we've got a tour after that, which kicks off the same day.
"Once that's done, I'll go back into writing mode. I'm desperate to take a year off and write. One thing about being on tour is, yeah, you're making money, and you're busy, but you don't have time to feed the creative machine, and for me, that's been long overdue."
Catharsis is out 7 April.
The post "I love pushing the sound of the guitar and getting it to do things that people don't usually think it can do" Yvette Young on Covet's new album and her approach to guitar appeared first on Guitar.com | All Things Guitar.
Source: www.guitar-bass.net