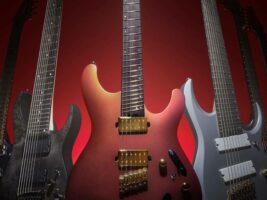 Ibanez kicks off 2023 with Axe Design Lab electric guitars
Ibanez has started the new year with an assortment of brand-new electric guitars under the newly launched Axe Design Lab series.
READ MORE: A Brief History of Ibanez guitars
Considered a successor to the Axion Label, the new series should speak to guitarists of all levels.
While the 2023 models bear resemblance to several existing designs, there are some notable enhancements under the hood.
The RGA622XH features a 27-fret design over the 24 frets offered by its RGA predecessors.
Image: Ibanez
The RG8870, while remarkably similar to other J. Custom instruments at a first glance, has undergone a serious redesign when it comes to practicality.
Not only has a scoop cut been introduced on the back of the lower horn – providing easier access to upper frets – but the chambered body makes the axe even lighter than its counterparts.
Image: Ibanez
As for the SML721, the more affordable six-string features a nyatoh body – delivering a rich mid-low end – and a thin, five-piece Wizard neck, incorporated for increased comfort when playing.
In addition, new eight and nine-string options come in the form of the RGDMS8 and the RG9PB. These are ideal for those inclined to drop tunings.
Image: Ibanez
Available to pre-order in a rose gold finish, the SML721 is the most affordable of the new range, coming in at £855. The RGA622XH, offered in both a black and white colourway, is priced £1,890, and the RG8870 is the most high-end of the models, costing £2,798.
The eight-string RGDMS8 is also available to pre-order, priced at £1,055, and the nine-string RG9PB costs £1,099.
Find out more about the 2023 range of Axe Design Lab guitars on Ibanez's website.
The post Ibanez kicks off 2023 with Axe Design Lab electric guitars appeared first on Guitar.com | All Things Guitar.
Source: www.guitar-bass.net