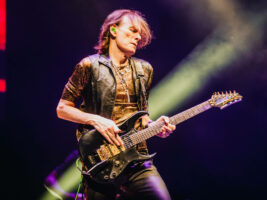 "It was just bulletproof": Steve Vai explains why he started using the Roland SDE-3000 delay
Steve Vai has spoken about the role the Roland SDE-3000 rackmount digital delay played in shaping his sound over the years.
READ MORE: "Reuniting the original G3 lineup is a dream come true": Joe Satriani, Steve Vai and Eric Johnson set for G3 reunion tour next year
Birthed in 1983 in the early days of the digital effects era, the SDE-3000 soon became a frequent fixture in the stage racks of guitar legends like Vai, Eddie Van Halen, Eric Clapton and Steve Lukather.
Speaking about the unit, Australian Musician host Joshua Munday noted how the SDE-3000's designer, Yoshi Ikegami, had cited Vai as the inspiration behind the brand's newly released SDE-3000D and SDE-3000EVH pedals.
Asked if any of that old equipment still has a space in his creative process, Vai replies [via Ultimate Guitar]: "Well, the great thing about back then, there wasn't many options. You had to buy pedals. And when rackmount gear started to come along for guitarists, that was one of the early things that was available."
"I don't know if it was really meant for racks for guitar players but I saw the value in it, and I've tried everything that was available at the time."
He adds: "And that Roland stuff, especially the SDE-3000 — it was just bulletproof. Most pieces of gear are like 20 questions every time you want to do something, and the sound is manipulated. That was a very transparent piece of gear. It was solid, and it didn't do anything but delays."
"But with delays, you could create phasing, flanging, chorus. That was the first time I gave any real attention to creating a sound," Vai explains. "And [the] sound I was looking for was a stereo chorus and a delay, so I had two units. And to this day, it's the same, except I use stereo delay."
"So, that was instrumental in the development of my sonic offering, so to speak. Because what it offered, I still use today."
Learn more about the SDE-3000D and SDE-3000EVH at Boss.
The post "It was just bulletproof": Steve Vai explains why he started using the Roland SDE-3000 delay appeared first on Guitar.com | All Things Guitar.
Source: www.guitar-bass.net