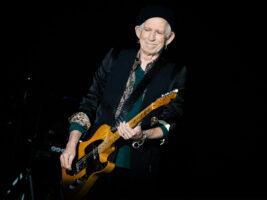 "It's a unique experience for me": Keith Richards on his new clean lifestyle
Keith Richards says he is "trying to enjoy" his new clean lifestyle away from drugs and alcohol, describing it as a "unique experience".
READ MORE: "It's a public pool filled with bull sharks and if you're not careful, you'll be consumed, lock, stock and barrel": Joe Bonamassa on the vintage guitar market
In an interview with The Telegraph, The Rolling Stones guitarist explains that this sober lifestyle is a new thing for him now that he's given up drugs and cigarettes.
"The cigarettes I gave up in 2019, I haven't touched them since," Richards explains. "I gave up heroin in 1978. I gave up cocaine in 2006. I still like a drink occasionally – because I'm not going to heaven any time soon – but apart from that, I'm trying to enjoy being straight. It's a unique experience for me."
The guitarist then goes on to admit that he doesn't like rap music. "I don't want to start complaining about pop music," he says. "It's always been rubbish. I mean, that's the point of it. They make it as cheap and as easy as possible and therefore it always sounds the same; there's very little feel in it."
He adds: "I like to hear music by people playing instruments. That is, I don't like to hear plastic synthesised muzak, as it used to be known, what you hear in elevators, which is now the par for the course," he continues. "I don't really like to hear people yelling at me and telling me it's music, aka rap. I can get enough of that without ­leaving my house."
The Rolling Stones are preparing to release their new studio album, Hackney Diamonds, on 20 October, which will feature Beatles' legend Paul McCartney.
Mick Jagger has revealed what it was like to work with the bassist, calling the experience "really enjoyable", explaining that "Paul was so natural and relaxed and he enjoyed it. We knocked it out really quick".
The post "It's a unique experience for me": Keith Richards on his new clean lifestyle appeared first on Guitar.com | All Things Guitar.
Source: www.guitar-bass.net