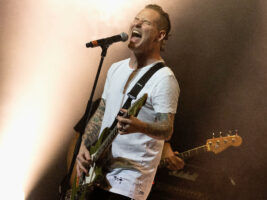 "It's just a f**king mechanical motion – there's no heart to it": Corey Taylor blasts the use of backing tracks in live shows
In 2023, it's not uncommon by any stretch for bands and artists to use backing tracks to bolster their live performances.
However, the issue has been the subject of much debate in the past year, with some conceding that a little backing track use is acceptable, so long as the majority of what's heard comes from the actual musicians, and others asserting that bands should be performing all the parts themselves.
READ MORE: "Who Cares?": Marty Friedman on bands that use backing tracks
Wolfgang Van Halen, for example, made his stance on the matter clear last month, when he said embellishing your live shows with backing tracks is fine, but they shouldn't make or break the show.
"I can't make it clear enough. I think if you're replacing core tracks, that's dumb. If your laptop goes down, you should be able to play," he said.
Now, Slipknot frontman Corey Taylor has waded in on the issue, adding his voice to the chorus of musicians opposed – at least partially – to the use of backing tracks.
In a new appearance on Steve-O's Wild Ride! podcast, Taylor praises the spontaneity of live performance, and says there's "no way" he could rely on backing tracks.
"I've had songs where I'll start a song and then I'll just blank… [And then] I'll laugh and I restart the song," he admits [per Blabbermouth]. "I'm like, 'Fuck.' At that point, that's all you can do. And it lets people know that they're in a moment, man. So many fucking people either play to track or they're not playing it all, and it's just, like, it's just a fucking mechanical motion for them, and there's no vibe. There's no heart to it."
He continues: "Now, the hip-hop community gets a pass because largely what they'll do is they'll throw the track on and then they rhyme over the top of it. But you can hear the double track on that, so you know they're doing it, but they're actually singing it live, singing along to themselves.
However, there are people in my genre who not only have tonnes of Pro Tools going on, but they're not physically singing as well."
Taylor tempers his opinion somewhat as he admits he has friends who use backing tracks live: "I shouldn't do that, because some friends I have use those and they use them for a reason that that's their peace, that's their truth. But I just – there's no way, dude. I couldn't do it."
Credit: Mike Lewis Photography/Redferns
He adds that his experience dabbling with backing tracks with Stone Sour has put him off the idea.
"When we were doing Stone Sour and we put out the two concept albums, [the] House of Gold & Bones albums, we used track[s] as filler for some of the tunes that we played," he says.
"Obviously, all the guitars were real, the drums were real, vocals were real, bass was real, but we used track for some of the orchestral stuff and some of the connector pieces. 'Cause we were playing some of the stuff that would connect. And being a slave to that felt so stifling that I was like losing my… I was, like, 'We've gotta get off this fucking shit.'
"I hate being chained to a click. I hate being chained to something where I can't… Because part of the fun of live is the push and pull, man. Like, you can tell when somebody's feeling it because the song is way fucking faster than the original. They're just in it, or it's heavier, or they slow it way down. That, to me, is the epitome of live, man, because you're feeling it. They're in that fucking moment and there's no denying that it's them playing it. And that, to me, that's the beauty of playing live."
The post "It's just a f**king mechanical motion – there's no heart to it": Corey Taylor blasts the use of backing tracks in live shows appeared first on Guitar.com | All Things Guitar.
Source: www.guitar-bass.net