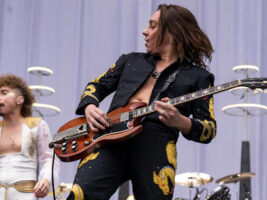 "I've always had a classic sound but never pursued that": Jake Kiszka waxes lyrical on his approach to guitar playing
In a new interview, Greta Van Fleet's Jake Kiszka has opened up his love for the Gibson '61 Les Paul SG, and the way he makes music.
"My SG is my number one," the guitarist admits to Guitar World. "I love that guitar, and we've done a lot together. So that's usually my main paintbrush while I'm in the studio. But I'm open to other guitars and use them as I need to."
READ MORE: Jake Kiszka confirms Gibson is making him an Epiphone signature model
He says that other guitars he's used on the band's third album, July's Starcatcher, include a Gibson ES-335, an old Telecaster, and a baritone guitar too.
"I guess I don't always pay attention to those sorts of details," he said, "I'm more about creating textures while painting, so to speak. But I love how you can layer guitars and make profoundly complex and outrageous sounds".
He also said that his guitar playing on the new record is more bluesy than on Greta Van Fleet's previous two albums. When Guitar World asked him whether he chases sounds or lets them come to him, he said, "I think maybe a lot of players do chase sounds, but I don't really go about it that way. I've always had a classic sound but never pursued that. I think subconsciously, a lot of that has been driven deep within my DNA as a guitar player.
"That said, there are certain sounds that I'm trying to achieve, but I'm not necessarily trying to emulate something that has been done before."
In an interview with Guitar.com, published last month, Kiszka discussed a formative experience of listening to an Eric Clapton solo, but said that his early are as varied as blues, classical, folk and jazz – as well as plenty of the classic rock he discovered a little later.
The post "I've always had a classic sound but never pursued that": Jake Kiszka waxes lyrical on his approach to guitar playing appeared first on Guitar.com | All Things Guitar.
Source: www.guitar-bass.net