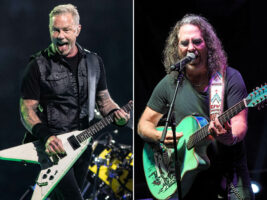 James Hetfield apparently apologised to Kip Winger for Nothing Else Matters diss
Metallica frontman James Hetfield has apologised to Winger lead vocalist Kip Winger for the band's diss in their Nothing Else Matters music video.
In the video for the 1992 track, drummer Lars Ulrich is seen throwing darts at a pin-up of Winger. Around the same time, Beavis and Butt-Head creator Mike Judge gave dorky character Stewart a Winger shirt.
READ MORE: Metallica were once charged $300k for cushions destroyed by fans during a show
In the years since, Winger has said that these very public disses hurt the band's career and damaged their legacy too. But in a new interview with Yahoo! Entertainment to promote the Paramount+ series I Wanna Rock: The '80s Metal Dream, he revealed that Hetfield actually called him to apologise.
"He was really contrite and was like, 'You know what? That was uncool. And I'm sorry we did that.' It was a very nice conversation. It seemed that the guy was completely awesome and I totally could be friends with him. But, you know… it was really Lars [who threw the dart]…"
Ulrich, reportedly, has yet to apologise. Winger continued, "It's just not cool to diss musicians. Even with the most poppy musicians who people might hate, a lot goes into it, man. It's a person's whole life, devoted to what they believe in. So, I don't believe in slagging off fellow musicians. That's basically it." But, he is quick to add that he's "all good with [Metallica] now."
He went on to say that he actually liked Metallica, too. "The irony is that before [the music video] happened," he explained, "The Black Album came out and I called my drummer and said, 'Man, you should check out the drums on this record, it's really awesome!' I love the drumming on The Black Album. And then next thing I know, Lars has got a dart in my forehead."
The post James Hetfield apparently apologised to Kip Winger for Nothing Else Matters diss appeared first on Guitar.com | All Things Guitar.
Source: www.guitar-bass.net