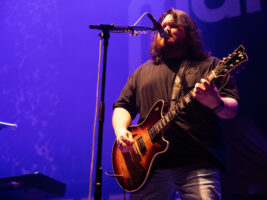 Wolfgang Van Halen was so nervous for Taylor Hawkins tribute shows he had to change string gauge
Wolfgang Van Halen has revealed that he was so nervous for the Taylor Hawkins tribute shows last year that he had to change string gauge.
His performances of Van Halen's classics Hot For Teacher and Panama were so well-received he was even accused of miming, and while he didn't look as if he even broke a sweat on stage he was a little more nervous than he let on.
In an interview with Guitar Techniques, he says he was so nervous he was unintentionally bending his strings, which he addressed by changing string gauge.
"I usually use D'Addario 10-46," said the Mammoth WVH frontman, "I used to play 9s, but when I did the Taylor Hawkins tribute show, I was so nervous I was wickedly bending every string out of tune, so we needed to go up a gauge. And I've been at 10-46 ever since."
But everything went swimmingly in the end, with Eddie Van Halen's son describing the Wembley tribute show last September as the "single best gig he ever did".
Last month, he told Total Guitar that playing the gig gave him a sense of closure – the sort of closure he'd have found if he'd played tribute shows for his dad.
"With Van Halen and all of the history behind it, there may be a bit too much of that to be put aside for what should happen," he said. "Personally, I feel like I got my closure when I played the Taylor Hawkins tributes, because – at least just for me – they were just as much about my dad as they were Taylor."
Earlier this week, Wolfgang Van Halen told Guitar.com that it's "flattering" he's starting to become viewed as a musician in his own right, and not just as the son of Eddie Van Halen.
"I see people being a fan of the music first and then only then realising, 'Oh shit, I had no idea you [were Eddie Van Halen's son]," he said. That's a really huge compliment because I feel like that can only take you so far, and being a fan of my father doesn't necessarily mean you're a fan of the music that I make.
"It's really flattering to see people view me as my own person. I'm gonna be myself whether or not anybody has a problem with it."
The post Wolfgang Van Halen was so nervous for Taylor Hawkins tribute shows he had to change string gauge appeared first on Guitar.com | All Things Guitar.
Source: www.guitar-bass.net