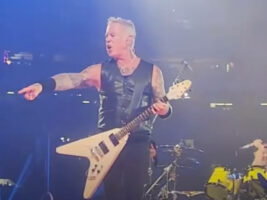 James Hetfield appears to tell an audience member to "get the f**k down" during live show
A video of Metallica's James Hetfield scolding an audience member at one of their live shows has been shared online.
In the clip, the vocalist and guitarist can be seen gesturing at someone to "get down", but it is unclear as to why.
READ MORE: Wish you could hear the bass in Metallica's Blackened? Now you can, courtesy of Taylor Swift's bass player
The video was captured at a show on 13 August in Montreal, Canada, and was shared to YouTube by Metal Addicts, though the video is credited to Roy Bradley, who originally posted a full clip of the band's performance of For Whom The Bell Tolls.
In the video, though it is inaudible, Hetfield appears to point to a fan and gesture at them to sit down. It also appears that he mouths the words, "Hey you, fucking get down motherfucker", and he later gestures again, adding what looks to be "Get the fuck down".
The person he called out isn't visible in the video, and commenters have also shared their confusion. One user who was present at both shows that weekend shared they completely missed the incident, whilst another user has suggested that it is rumoured Hetfield was gesturing to a security guard who was blocking the view of some fans.
The set was part of their M72 World Tour, which kicked off in April in Amsterdam, Netherlands. The trek involves two separate shows in each city that the band play in as part of their No Repeat Weekend promise. The no repeat shows mean entirely unique setlists and supporting acts perform each night.
In other Metallica news, drummer Lars Ulrich recently shared that the band were once charged $300,000 for cushions which were destroyed by fans who "played frisbee" with them at a venue in the US.
Get tickets to see the band on tour via the official Metallica website.
The post James Hetfield appears to tell an audience member to "get the f**k down" during live show appeared first on Guitar.com | All Things Guitar.
Source: www.guitar-bass.net