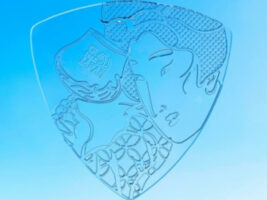 Japanese researchers invent a special glass pick for "glittering" top-end sounds
Researchers at Japan's Kyushu University have developed a one-of-a-kind glass pick, and have showed off the unique harmonics it can produce.
READ MORE: IK Multimedia's ToneX Pedal brings AI-powered guitar rigs to your board – here's what it costs
The pick was developed by Professor Shigeru Fujino of Kyushu University's Global Innovation Center, in collaboration with Kyoto Sangyo University, Ikeda Picks, and Kohoku Kogyo Co., Ltd, in conjunction with the United Nations International Year of Glass 2022. In a statement shared on the university's website on February 16, the professor explained that while a pick made using silica glass was unusual, the practice of making tools with the material is centuries old. "The molecular structure of silica glass makes if more durable, has better light transmission, and is highly heat and chemical resistant," he explained.
"Silica glass has higher mechanical strength and density than celluloid, the common material used in guitar picks," Fujino continued, adding, "Its unique properties produce gorgeous and glittering high-frequency sounds that cannot be obtained with conventional guitar picks."
The university has also released a video of the pick in action, as well as some samples on SoundCloud, which can be heard below.
In other guitar news, Gibson is set to commemorate guitar legend Sister Rosetta Tharpe with a concert at Austin blues venue Antone's dubbed Strange Things Happening: A Tribute to Sister Rosetta Tharpe to celebrate the "Godmother of Rock n' Roll and trailblazing performer". The concert will feature a band finale from The Blinky Griptite Orchestra to honour SRT, as well as special guest performances from Amythyst Kiah, Abraham Alexander, Betty Harris, Ruthie Foster, and Valerie June among many others.
The concert will be held Sunday 19 March 2023 at 11am Central Time at the LUCK Ranch in Austin, Texas, USA, with $1 from every ticket sold going to the Gibson Gives—the Sister Rosetta Tharpe Scholarship.
The post Japanese researchers invent a special glass pick for "glittering" top-end sounds appeared first on Guitar.com | All Things Guitar.
Source: www.guitar-bass.net