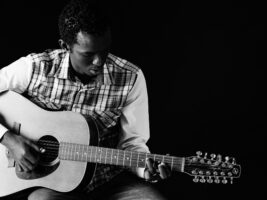 Guitar Tales: Nganji's odyssey – from the church to the jazz club
As a guitarist based in Kigali, Rwanda, I have had the pleasure of getting to know many talented musicians in the local scene. One of these musicians is my friend and mentor, Nganji Arnaud, a guitarist and bandleader who originally hails from Burundi.
READ MORE: Guitar Tales: Meet Ivano Bass, who escaped war-torn Burundi to reach Afropop stardom
If you've read any of my columns before you might have heard me mention Kinga Blues – a trio of Burundian musicians who have been hugely successful and influential on the scene here.
Image: Press
Nganji Arnaud is the guitarist and bandleader of Kinga Blues, but his musical journey started in very different circumstances, but he's always held a deep love of blues and rock. Nganji actually started out as a drummer and pianist, but even then he was heavily influenced by the music of Jimi Hendrix and Carlos Santana. He was a great musician, but after discovering the music of Michael Hedges he developed a great love of acoustic guitar, and soon began consuming all kinds of guitar music – from Dire Straits to Leadbelly. Deciding that guitar – not drums or piano – was the instrument for him, he began taking guitar lessons from Mighty Popo – the founder of Nyundo School of Music – and TamFum, who you may remember from a previous Guitar Tales column. Before long he was playing electric guitar in the Burundian worship group Shemeza Music Ministry.
Image: Press
Nganji wasn't content to make music in church however, and in 2010 the jazz-rock trio Moutcho with Yvan Kwizera, the bassist who now plays for Kenyan stars Sauti Sol. The trio successfully built up a jazz-rock scene in Burundi's largest city, Bujumbura, playing gigs and hosting music workshops across the town.
"You know in Church you're limited in terms of what to play," he reflects. "I was conditioned to put on pause the blues and fingerstyle I had been playing, which is what made us start Moutcho. There we started listening to guitarists like Pat Metheny, Joe Pass and Mike Stanley, then absorbed shred from Steve Vai, Joe Satriani, Shown Lane and Allan Holdsworth then, of course, George Benson and Wes Montgomery."
Image: Press
New frontiers
Unfortunately, the music scene in Burundi was shut down due to the war in 2015, and Nganji and Yvan fled to Rwanda. There, Yvan joined the band One Million Dollar, which was made up of talented musicians including Made Beat, one of the best producers in Rwanda. Nganji formed Kinga Blues, a rock and blues band featuring various singers. Nganji also worked with other musicians in reggae and hip-hop band, and Kinga Blues hosted open-stage concerts and jam sessions, allowing other musicians to join them and experiment with different styles.
In 2019, Kinga Blues went on hold after the drummer left, and Nganji formed a new band with Moses, one of the best bassists in East Africa, and Raphael on drums. The band released a rock music album and played at various festivals and events. Nganji also continued to perform solo concerts, focusing on his acoustic guitar skills and playing the music of artists like Andy McKee and John Butler.
Image: Press
In addition to his performances, Nganji has also been involved in the music scene in Kigali by serving as a mentor and instructor at a school founded by the association Fingerpickers in Africa. The association, founded in 2019, provides free guitar workshops and organises acoustic guitar concerts promoting fingerstyle in Kigali and on the continent as a whole. Nganji has been a supportive member of the association and has helped to mentor and instruct aspiring musicians.
Nganji's talent and passion for music are evident in his performances, and it is clear that he has dedicated his life to perfecting his craft. His hard work and dedication have paid off, as he has had a successful and influential career in the music industry at least in East Africa. "I think the music industry in Rwanda is really blooming right now," Nganji says. "There are so many talented musicians here and the government is really supportive of the arts, which is great to see. It's an exciting time to be a part of the music scene in Kigali."
Nganji is just one example of the many talented musicians who have fled their countries and made a positive impact on the music scene in Rwanda.
Keep an eye out for Nganji's upcoming projects on his Facebook Page.
The post Guitar Tales: Nganji's odyssey – from the church to the jazz club appeared first on Guitar.com | All Things Guitar.
Source: www.guitar-bass.net