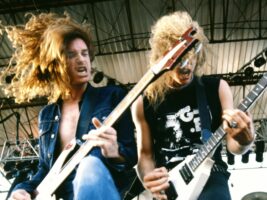 Jason Newsted says he doesn't believe James Hetfield "will ever recover from losing Cliff Burton"
Jason Newsted, who joined Metallica as the bassist after the tragic death of Cliff Burton in 1986, has opened up about how the loss of his predecessor affected the band and especially frontman James Hetfield.
READ MORE: Gibson's Cesar Gueikian hints at DG-335 Dave Grohl signature model revival
In an interview with the Let There Be Talk podcast, Newsted said that he respects Hetfield for his ability to cope with his inner demons and still deliver his best to the fans, despite the emotional scars that he carries. "I don't think that James will probably ever recover from the Cliff thing because of his abandonment and separation; [because] of things that happened to him and his family and suffering so far beyond his control. This is kind of shit that cuts so deep, you know, no matter how many people you're talking with, it's still going to be there," Newsted said.
He added that Hetfield was already faced with some family issues before Burton's death, which only triggered more trauma for him. "He had to find a way to compartmentalise, you know, there's a thing I've learned over these past years with the respect that I've always had great respect for the guy, but even more so now there was never a time I didn't respect him," Newsted continued.
Cliff Burton was killed in a bus accident in Sweden during Metallica's Master of Puppets tour in 1986. He was 24 years old at the time, and was considered one of the most influential and talented bassists in metal history.
Newsted was chosen as Burton's replacement after auditioning for the band. He stayed with Metallica until 2001, when he left due to personal and creative differences. He later formed his own band, Newsted, and also played with other groups such as Voivod, Flotsam and Jetsam, and Ozzy Osbourne.
The post Jason Newsted says he doesn't believe James Hetfield "will ever recover from losing Cliff Burton" appeared first on Guitar.com | All Things Guitar.
Source: www.guitar-bass.net