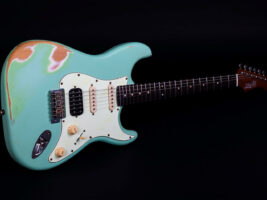 JET Guitars JS-400 SFG Relic review – is this the best sounding affordable S-type on the market?
Cast your minds back to 2020. Lockdown days merged into one, beards were growing out of control like Tom Hanks in Castaway, and everyone's work attire instantly became something that involved an elasticated waist. But while most of us were sat on the couch watching Tiger King, Primoz Virant was busy doing something altogether more impressive – masterminding the launch of his shiny new guitar brand, JET Guitars.
READ MORE: Squier 40th Anniversary Vintage Edition Telecaster – Squier gets the relic treatment
Fast forward to 2023, and in a very short time JET has begun making waves at the budget end of the market, offering features that you'd usually expect to see on much more expensive instruments. The JS-400 SFG Relic however, is another factor of eyebrow-raising again – albeit a much more polarising one – with factory ageing added to the S-type JS-400's already impressive offering. For £329. Madness.
Now before we get into the whole relic thing, let's appreciate what an impressive instrument the JS-400 is without the artificial scuffs and dings; the Seafoam Green finish to the body is a beautifully inviting hue, while the stylish aged chrome tuners are just tarnished enough without going overboard, and then there's the neck. Yes, somehow this thing ships with a bona fide roasted Canadian maple neck, complete with a bone nut and rosewood fretboard – we say again, this guitar is £329.
The relic treatment itself, well… your mileage may of course vary. For some it's tantamount to vandalism, for others it's a cool way of making your guitar look less factory-fresh. From a distance, the Relic certainly looks the part with its heavy wear around the belly contour complete with leftover primer. Up close, however, it's a little GCSE art project compared to the remarkable work done by US luthiers and Custom Shops, especially the over-the-top rust added to the bridge and jack socket. But those guitars cost at least 10 times more than this. Ten times! So credit where it's due – it's probably a better job than you could do at home in your shed, and so if you're looking for a relic on a budget, you won't get more budget than this.
In use
At 7.6lbs, this thing is firmly on the lighter side of S-type guitars – especially HSS configuration. But that's not to say the JS-400 is lightweight in its features. The tremolo bridge and the machine heads don't feel particularly high end to the touch, but really do hold tune impressively even when we're doing our best (but still rubbish) Jeff Beck impressions on the trem arm.
The HSS ceramic pickup arrangement is controlled by a five-way pickup selector switch, a master volume, and a single master tone knob. While the lack of coil splitting functionality could be disappointing for some, the JS-400 SFG still provides some truly versatile, luscious, vintage tones. Retaining those qualities at higher gains can be tough, as the bottom end can become a little flat, resulting in a slight loss in presence and definition. That loss is negligible though, and who the hell wants Earth-rumbling gain out of an S-type anyway!? Keep your rig on a more modest setting and the JS-400 is bright, clear, and had us Sultans of Swing-ing our way through our favourite 70s and 80s Strat classics, having a whale of a time doing so. The more time we spend with it, the more the incredible neck and fretboard begs to be travelled down just one more time. Then another. And another.
In a quest to produce an accurate take on a classic vintage guitar, JET has instead stumbled on the birth of an eccentric sibling that refuses to be tied down by the prerequisites of normality. We reckon the JS-400 SFG isn't a whole lot unlike a visit to your local pub. It may look a tad strange, and your mates might think the decor is a bit weird, but there's something about it that you can't help but love. JET's latest effort guarantees a really good time at a really good price, and the plentiful quirks make it all the more enjoyable.
Key Features
PRICE: £329
DESCRIPTION: Double-cutaway solidbody electric guitar, made in China
BUILD: Solid basswood body, roasted Canadian maple neck with modern C-profile and rosewood fretboard
HARDWARE: JET brushed chrome machine heads, single-locking aged tremolo
ELECTRICS: 1x ceramic humbucker, 2x ceramic single-coil, master volume and tone, five-way blade switch
SCALE LENGTH: 25.5" (648mm)
NECK WIDTH: 42mm at nut
NECK DEPTH: 22.8mm at 1st fret, 23.6 at 12th fret
FINISH: Seafoam Green Relic only
LEFT-HANDERS: No
CONTACT: JET Guitars
Like this? Try these
Squier Classic Vibe 70s Stratocaster HSS (£369)
Fender Player Stratocaster HSS (£689)
Yamaha Pacifica 112V (£277)
The post JET Guitars JS-400 SFG Relic review – is this the best sounding affordable S-type on the market? appeared first on Guitar.com | All Things Guitar.
Source: www.guitar-bass.net