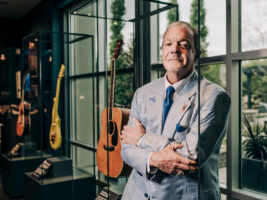 Jim Irsay was offered $1 billion to sell and move his iconic guitar collection to Dubai
Jim Irsay, who owns some of the world's most iconic guitars, says he was offered over $1 billion to sell his entire collection and relocate it to Dubai.
The businessman has revealed he received an offer from a "Middle East element" to purchase the entirety of his famous guitars.
READ MORE: Jake Kiszka confirms Gibson is making him an Epiphone signature model
Speaking to Eddie Trunk on The Eddie Trunk Podcast, Irsay did not name who or where the offer came from. He appears to have turned down the offer, which would have involved the collection being transported in its entirety to the UAE (as reported by Guitar World).
"I was offered by a Middle East element – kind of like what's been going on in golf a little bit – 1.150 billion dollars for the collection," Irsay says. "They wanted to move it to Dubai and they wanted it in totality."
The billionaire owner and CEO of the NFL's Indianapolis Colts has spent colossal amounts of money to obtain some of the most iconic instruments in rock history.
Among his purchases is David Gilmour's Black Strat which he bought for a cool $3.9m, Jerry Garcia's Tiger for $957,500, the Stratocaster that Bob Dylan played at Newport Folk Festival in 1965 for $965,000, and also the Gibson SG that George Harrison used on Revolver coming in at $567,000.
Irsay's collection features some of the most important instruments in the history of popular music, including this Stratocaster that Bob Dylan used at the Newport Folk Festival.
Some may remember when Irsay spoke to us at Guitar.com in 2021. Despite the fact that many would love to have the bragging rights of his esteemed collection, he told us he sees himself as more of a "custodian" than an "owner" of his famed instruments.
"Our emotional and spiritual lives are so tied to the arts, so tied to music. If someone has a death in the family or a transformative time in their life, and a certain song came out at that time, they remember that moment.
"It's way bigger than just saying, 'Oh, that's a nice song. That's a cool groove'. It's much more than that," he told us. "I mean, it's the fabric of people's lives. It's so important to me that in the museum, people can play things and touch them."
The post Jim Irsay was offered $1 billion to sell and move his iconic guitar collection to Dubai appeared first on Guitar.com | All Things Guitar.
Source: www.guitar-bass.net