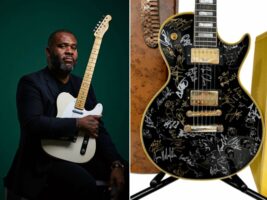 Joe Bonamassa launches fundraiser for Kirk Fletcher, who suffered a stroke onstage in July
Joe Bonamassa has launched a fundraiser to raise money for fellow blues guitarist Kirk Fletcher, who's currently on a break from gigging after suffering a stroke onstage in July.
READ MORE: Joe Bonamassa says Jeff Beck was the "greatest rock guitar player of all time"
To offset the burden of Fletcher's medical bills and living expenses, JoBo and his Keeping the Blues Alive Foundation are sponsoring an auction which will feature the sale of a one-of-a-kind gear package that any blues lover would appreciate.
The virtuoso announced the auction on Instagram, stating, "It's to help our friend Kirk Fletcher, who's been having some medical troubles for the last couple of months – and he's in need of some financial help until he can get back out gigging full time."
Headlining the collection is a 2022 Gibson Les Paul Custom signed by everyone who performed at the 2023 Keeping the Blues Alive cruise. That includes Kenny Wayne Shepherd, Christone 'Kingfish' Ingram, Blackberry Smoke, Cardinal Black, Ruthie Foster, Bonamassa himself, and more.
There's also a '48 Fender Dual Professional JB Edition guitar amp, coming straight from Bonamassa's personal collection. The amp is the third model in Joe's line of high-end signature amps.
Other items in the collection include a sold-out Way Huge Doubleland Special Overdrive Pedal that's signed by Bonamassa, his signature Cry Baby JB96 wah pedal, and signature Mystic Rose Snake guitar strap.
The winning bidder will also receive two tickets to any Joe Bonamassa show with Meet and Greet passes.
Describing Fletcher as "one of the greatest traditional blues players of all time", Bonamassa said that the money raised will "help him out tremendously get through the next six months, eight months until he starts playing again."
Josh Smith added, "I want to thank everybody in advance. Please do what you can to help our brother. He really is our family."
The auction is currently live with a highest bid of around $30,000. Bidding will end at 11:59pm EST on 12 November.
View this post on Instagram
A post shared by Joe Bonamassa (@joebonamassa)
The post Joe Bonamassa launches fundraiser for Kirk Fletcher, who suffered a stroke onstage in July appeared first on Guitar.com | All Things Guitar.
Source: www.guitar-bass.net