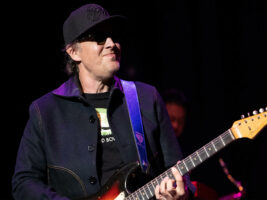 Joe Bonamassa praises one "green box" that has been essential to his pedal board
Blues rocker Joe Bonamassa has shared which 'green box' has been his most used pedal over his illustrious career so far. Spoiler alert: It's not a Bad Monkey.
READ MORE: Albert King was the Immaculate Conception as a guitarist, says Joe Bonamassa: "Nobody before Albert played the way he did"
Bonamassa is set to release a new live album, Tales Of Time on 14 April this year, and in a new interview with Guitar World, the three-time Grammy nominee revealed the one essential pedal that he can't do without.
"My most-used pedal over the years has been the Ibanez Tube Screamer in both the TS9 and TS808 configurations," he said. "Historically, I have been in very different musical situations requiring different amounts of gain structure.
"A 'green box' is usable in almost any situation with almost any amp. It gives you a nice step up in the midrange frequencies (around 800Hz) that is useful for not only soloing but for power chords and big rhythms," Bonamassa explained.
Minus his passion for finding unique gear treasures, Bonamassa believes the reissued Tube Screamers are excellent value for your money:  "There have been many versions of the Tube Screamer, and many boutique [Tube Screamer] copies have been made over the years," he said. "But for my $80 you can't beat a reissue Ibanez TS808 to create a great sound with both Fender and Gibson electric guitars."
So you need not fear about getting your hands on The JHS Show approved Digitech Bad Monkey – in the words of Josh Scott himself, "Learn to listen with your ears and not trends, and you will be a much happier guitarist."
Get tickets to see Joe Bonamassa on tour at JBonamassa.com.
The post Joe Bonamassa praises one "green box" that has been essential to his pedal board appeared first on Guitar.com | All Things Guitar.
Source: www.guitar-bass.net