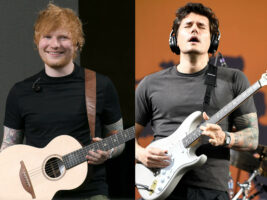 John Mayer shreds with Ed Sheeran on Thinking Out Loud at US show
Ed Sheeran brought out John Mayer to play Thinking Out Loud at a show in Massachusetts on Friday night (30th June) – watch their performance below.
READ MORE: Jason Newsted used to dunk his Metallica basses in saltwater to test their sweatproof-ness
While Mayer sang backing vocals during the chorus of Sheeran's 2014 hit, his main contribution to the performance was on the guitar. He played his own part on top of Sheeran's during the verses and then began an elaborate solo in the song's bridge as Sheeran cheered him on.
"Let it rip!" he said as Mayer shredded.
Mayer came on stage at the Gillette Stadium in Foxborough, Massachusetts, wearing a t-shirt displaying the name 'Ed' in the style and colours of the FedEx logo, which was apparently custom-made and available to buy.
"He asked me yesterday, he was like, 'Can I print out these shirts and sign them at the gig?'" Sheeran said. "And I was like 'Yeah! Why not?'"
He then introduced Thinking Out Loud by adding: "If you don't know the words to this, you're at the wrong concert."
As the song finished, Sheeran told the crowd to "make some noise" for Mayer as he held his guitar aloft and left the stage.
Mayer had also stepped in to open for Sheeran when Khalid, his support act on his current Mathematics US tour, had to sit out after he was involved in a car crash.
The pair had performed Thinking Out Loud together live in Tokyo in 2019. They also duetted on Sheeran's hit Don't on The Late Late Show in 2015.
Sheeran's most recent album, Subtract, was released in May. He is on tour in the US until September.
The post John Mayer shreds with Ed Sheeran on Thinking Out Loud at US show appeared first on Guitar.com | All Things Guitar.
Source: www.guitar-bass.net