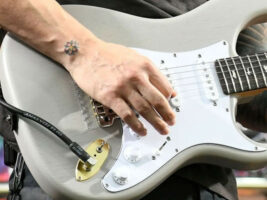 John Mayer spotted playing potential PRS Silver Sky prototype
John Mayer has been spotted playing a new signature model, possibly hinting at the emergence of the PRS Silver Sky 2.0.
READ MORE: Steve Lacy's new signature Fender Strat comes with a built-in fuzz
During Dead & Company's recent farewell tour show, the Continuum guitarist brought out an axe that has been speculated to be a prototype Silver Sky due to a sticker reading "Prototype. Silver Sky. Advanced Research Division" behind the bridge.
According to the Instagram account John Mayer Gear, there have been some modifications that suggest it might be a prototype of a new PRS Silver Sky.
The guitar dons a Moc Sand finish, and looks to have an output jack fitted with a switch – similar to the Alembic Blaster FET-based boost that can also be found built into the pickguard of Jerry Garcia's Alligator Stratocaster. This isn't the only Alligator reference, as the headstock has been fitted with a brass nut, as well as a new retainer bar.
The guitar also dons a hardtail, a first for the Silver Sky.
The prototype Silver Sky can be seen at around the 19:30 mark below:
Despite the speculation around this being a prototype, the sticker might be a red herring, and the guitar could be nothing more than a one-off instrument made for the latest Dead & Company tour. But, it's also possible that it is indeed a prototype model – after all, that's how the world was introduced to the Silver Sky itself.
Back in April there were more rumours about Mayer debuting a new Silver Sky, as he teased a new SE Silver Sky model on his recent US solo tour. According to the John Mayer Gear Instagram account, it was first seen in late march, before a second appearance on the 1 April added to the rumour-mill of some kind of new guitar being on the way.
The post John Mayer spotted playing potential PRS Silver Sky prototype appeared first on Guitar.com | All Things Guitar.
Source: www.guitar-bass.net