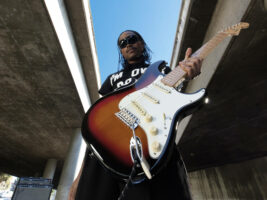 Steve Lacy's new signature Fender Strat comes with a built-in fuzz
Fender has unveiled the Steve Lacy "People Pleaser" Stratocaster, the latest addition to its artist Signature Series.
READ MORE: Jimi Hendrix's stage-used Fender guitar cabinet goes up for auction
Modelled after Lacy's favourite vintage Fender guitars, the People Pleaser features an alder body, modern deep "C" neck with a 9.5″ radius maple fingerboard and narrow tall frets. It's loaded with Player Plus Noiseless single-coil pickups and a custom integrated Fuzz circuit for those classic dirty tones ranging from overdrive to all out fuzz.
The guitar sports a striking "Chaos Burst" finish, and comes shipped with a vintage-style hardshell case with a fuzzy green interior. Lacy's personal style also comes through by way of a bespoke double dice inlay at the 12″ fret, a neck plate engraved with his original artwork, and a funky green/blue checker patterned back plate.
"We aimed to design a guitar that not only represents Fender's unwavering dedication to quality but also mirrors Steve's distinctive character and individuality," said Justin Norvell, EVP of Product at Fender.
"This guitar means so much to me. It's a full circle moment. My first guitar was a Squier strat. It was the box set that came with an amp, case, quarter inch-the whole 9. Now I have my very own Fender Stratocaster guitar," Lacy said of the instrument.
"The People Pleaser Strat, in a nutshell, is my dream guitar as a kid when I first started playing and my dream guitar as the guitarist I am today. An ode to the old classic design that Fender is known for with all the new specs that make a guitar feel like home. I hope everyone gets to experience the feeling of this guitar. I'm excited to see what people make with it."
Listing at $1,399.99, the limited edition Steve Lacy "People Pleaser" Stratocaster will be available throughout 2023.
Check out a demo of the guitar below
Learn more at fender.com
The post Steve Lacy's new signature Fender Strat comes with a built-in fuzz appeared first on Guitar.com | All Things Guitar.
Source: www.guitar-bass.net