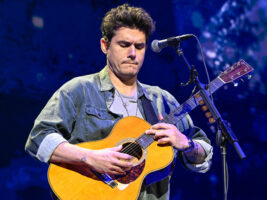 John Mayer teases upcoming project in a mysterious new post
John Mayer fans are in for a treat as it appears that a new project from the musician is on the horizon.
READ MORE: Joe Bonamassa mourns passing of guitar mentor Carmen Caramanica
The singer shared a vague social media post on Thursday (19 January) hinting at an upcoming project that will land next week on 26 January.
The post features a black-and-white photo of Mayer holding his guitar in front of a stool with a spotlight shining on it. "It wasn't time until it was," he captioned the post, along with a ticket emoji that suggests some kind of ticketed event arriving soon.
The surprise announcement has left fans buzzing in the comments section, with one user stating "No idea what's going on but I'm all in".
Asher Guitars' official Instagram account also echoed the sentiment, saying "I don't know what this means but I want a ticket!!"
While it's unclear if Mayer is releasing a new song, new album or perhaps a new tour, one thing's for sure is that everyone is looking forward to a new something from the man, who a couple months back teased "I'm having the time of my life writing and recording, and it won't be long before I share some very exciting news about some new projects."
Check out the post below.
View this post on Instagram
A post shared by John Mayer (@johnmayer)
The post John Mayer teases upcoming project in a mysterious new post appeared first on Guitar.com | All Things Guitar.
Source: www.guitar-bass.net