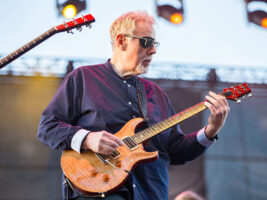 Kansas guitarist Rich Williams believes "there's no money in making records anymore"
Rich Williams, guitarist of prog-rock outfit Kansas, has claimed that releasing records won't make you money in today's world.
READ MORE: Ben Howard: "My guitar playing has always been a kind of car crash of whatever suits me and whatever use I can get out of it."
In a recent interview with Radio Artifact, William says it's tough for bands — even ones of Kansas' calibre — to earn money from making new albums, adding that the payoff musicians get from doing so these days comes mostly in the form of non-financial rewards.
"Obviously, there's no money in making records anymore," says the guitarist [via Killer Guitar Rigs]. "Hard product is not much of a market anymore. You have your audiophiles who like to collect the vinyl, but that's not a major recoup, the money it costs just in making it."
Referencing the rise of music streaming, specifically, Williams says "Mostly it's all downloads, Spotify type of things. They have found a way of monetizing that to an extent, but it's nothing like it was pre-internet."
"I'd say, to make an album, you have to really want to do it, because there's no payoff in doing it, other than, again, scratching the creative itch and remaining relevant to your fans, those are very important things."
He continues: "But you're also taking yourself out of the market, and the fun part, which is being on the road and performing. That's the joy of it all, that's the payoff. The recording process is… sometimes it's long, and painful, and boring, and all of that. Whereas, again, live is where it's always been at."
In related news, Cradle of Filth frontman Dani Filth has recently commented on how difficult it is for modern musicians to monetise their creative output, particularly with the "onset of music streaming platforms that don't pay anybody".
"It's very hard for bands at the moment. But it doesn't help when people just have this in-built idea that it's not a privilege to get music, that music is something that should be given away free," he said. "I mean, I don't walk into someone's shop and just pick up – I don't know – a pack of bananas and say, 'Well, these grow on trees. They should be free. I'm walking out with these.' I'd be arrested for shoplifting."
"But it's fine for people to download… Even before albums are out, you find fans, like, 'Oh, I've got a link to it,' and they put it up, and then instantly any sales you're gonna get from people buying it for a surprise are out the window because they've already heard it and then they just move on to the next thing."
The post Kansas guitarist Rich Williams believes "there's no money in making records anymore" appeared first on Guitar.com | All Things Guitar.
Source: www.guitar-bass.net