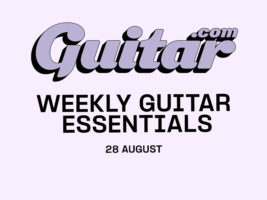 Weekly Guitar Essentials: Margaret Glaspy, Callous Daoboys and more
Welcome to the Weekly Guitar Essentials!A roundup of 10 of last week's best guitar-driven tracks, featuring the biggest names in rock to your new favourite underground discovery. Grab the playlist on our Spotify, or check it out in more detail below.
Margaret Glaspy – Irish Goodbye
Sincere, textural, evocative – all of Margaret Glaspy's new record Echo The Diamond is top-tier singer-songwriter fare, but Irish Goodbye is a great, punchy example of just what makes her presence so engaging.
Guns N' Roses – Perhaps
Yes, this technically came out a while ago via bar jukeboxes, but forgive us for bending the rules to include a new track from one of the biggest rock bands of all time. There's a killer solo from Slash, of course, but will you like the rest of the song? Er… perhaps.
Bombay Bicycle Club – I Want To Be Your Only Pet
Another taste of their upcoming record My Big Day, this is a hazy, fuzzy tune that's as summery as it is sinister. Highlight: that guitar line that comes in at the 40 second mark. Tasty.
Spiritbox – Jaded
Spiritbox are, for great reason, amongst the leaders of the modern metal scene – and new track Jaded is a great example of why. Big riffs, bigger hook, and Courtney LaPlante leaping from soaring cleans to ear-toasting growls.
Great Falls – Ceilings Inch Closer
The impending Great Falls album Objects Without Pain has fans of shouty, claustrophobic, noisy guitar stuff chewing on the furniture with excitement. Until its September release we've been tided over with a handful of singles, the latest of which is the musical equivalent of falling down a set of concrete steps and crashing into a brutalist sculpture. In a good way.
The Armed – FKA World
Genre-smashers The Armed had a tough job following up 2021's acclaimed Ultrapop, but they've deftly pulled it off with a sidestep away from overwhelming hardcore into much catchier territory. Second track FKA World is a great example of the sideways flip they've taken into hookier sonics.
Svalbard – How To Swim Down
A metal band doing a slower, softer one? "Oh no!", you say – but this is Svalbard we're talking about, and Svalbard don't miss, and Serena Cherry's vocals and guitar playing are just as comfortable at this end of the dynamic scale as they are pummelling you in the face.
Kenny Wayne Shepherd – Sweet & Low
The debut single from KWS' new record Dirt On My Diamonds Vol. 1 is a great reminder of why he's such a mainstay in the modern blues-rock scene. Groovey, catchy and with an unbelievable Stratocaster tone, this single comes out swinging and sets a high bar for his new album.
Hot Milk – ALICE COOPER'S POOL HOUSE
Manchester power-pop duo Hot Milk's debut album is finally here, and of course it's wall-to-wall bangers. A new standout from the tracklist is ALICE COOPER'S POOL HOUSE, mainly because of the relatable subject matter.
Callous Daoboys – Waco Jesus
Look, it's pretty hard to describe what The Callous Daoboys sound like, outside of the fact that they're just as fun as their band name. Hit play and bask in the sheer callousness of these daoboys.
View the full playlist on Spotify:
The post Weekly Guitar Essentials: Margaret Glaspy, Callous Daoboys and more appeared first on Guitar.com | All Things Guitar.
Source: www.guitar-bass.net