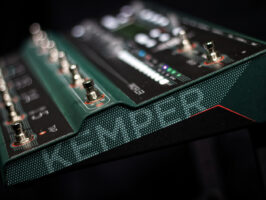 Kemper will introduce new 'Liquid Profiling' tech to its amplifiers
Kemper Amps has teased the newest update to their Kemper Profiler, promising something called 'Liquid Profiling' – offering more in-depth and accurate control over amp profiles.
READ MORE: Rage Against the Machine to be inducted into the Rock & Roll Hall of Fame
In an interview with ToneJunkieTV, Christoph Kemper revealed that they would be introducing Liquid Profiling to the Kempler Profiler.
With the Kemper Profiler, guitar players can create individual tones and dynamics using a digital guitar amp and processor. According to the manufacturer, this is the first time that guitarists are no longer "shackled" to the tube amplifier as the only way to achieve "that sound".
Profiling allows users to extract the exact tone and feel from any amp. Kemper states that this not only captures the amp itself, but every aspect of the cabinet and microphone configuration. However, settings can only be adjusted after the fact – the profile doesn't fully capture the way the actual amp's EQ responds.
The newest update hopes to allow users to retain the flexibility of the amp's actual EQ and gain settings through modelling, while retaining the accuracy of an amp profile.
"In the past, everyone had this little problem to decide between the modelling technique or the Profiling technique, and I think that everyone wished to have both at the same time without any drawbacks. This is what we've made."
"You add a model to the Profiler of a specific amp and the model should know what to do, where to set the gain, your tone stack, your EQ, and it should calculate the sound to the profiler."
"It adds something to the process, it doesn't change it, it just adds," Kemper continued. "If you are not going to make a liquid profile, then everything stays the same. If you are going for a liquid profile then you will be asked to set the position of the original gain, for example".
You can watch the full interview below:
Kemper himself confirmed that Liquid Profiling will be on existing units, and that it will be available as a free software update.
There has not been official news of this update from Kemper, but keep your eye on the website for more information by visiting kemper-amps.com.
The post Kemper will introduce new 'Liquid Profiling' tech to its amplifiers appeared first on Guitar.com | All Things Guitar.
Source: www.guitar-bass.net