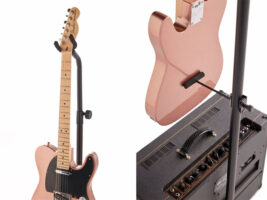 Kickstarter launched to fund innovative new guitar and amp stand – The Altar
A new storage solution which is currently being funded on Kickstarter allows for musicians to store their guitar and amp together in a neat display.
READ MORE: Victory Amps unveil the newest Sheriff amplifiers
The new design is called The Altar, and has been brought to life by Spanish designer David Galvañ. He says of his creation, "It goes beyond keeping your instrument accessible as it is designed to give the user a new experience, not only by helping to show-off your rig but to keep everything organised."
It uses the weight of a combo amp on V-shaped legs to create a solid stand for the electric guitar, which can hang above it with a typical foam-covered hook which rests just under your guitar's headstock.
There's the addition of an adjustable backrest to ensure the guitar hangs level with the amp too, and the height of the guitar hanger is adjustable so you can adapt it to your liking, or the size of your instrument. Extra accessories are also available, including a pick tray which can be mounted on the stand, and a felt mat for organising pedals.
Take a look at the image below for an idea of the concept:
 
Image: David Galvañ / Kickstarter
Galvañ first developed the design as part of his studies back in 2012, according to a development timeline on the product page. The Kickstarter is aiding funds for the final design and there is a call out for a warehouse and shipping space based in the US. At the time of writing this, £2,012 has been raised out of a goal of £8,893.
To find out more and donate go to Kickstarter.com.
The post Kickstarter launched to fund innovative new guitar and amp stand – The Altar appeared first on Guitar.com | All Things Guitar.
Source: www.guitar-bass.net