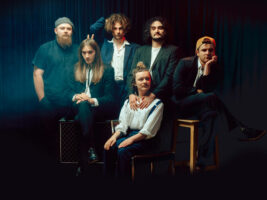 Meet CVC: The no-nonsense, small-town psych rockers making big noise in the world of guitar
Proving yourself as a serious musician is always tricky, but it's even harder when you're from a small historic parish in the Welsh Valleys. CVC, or Church Village Collective in full, have come a far way from their hilltop hometown, and are already causing a buzz overseas.
READ MORE: "We've gone backwards to move forwards:" You Me At Six on tapping into their old selves and 2000s pop-punk on new album Truth Decay
But despite their wide ambitions and raw love affair with music, the six piece (consisting of vocalist Francesco Orsi, bassist Ben Thorne, drummer Tom Fry, keyboardist Daniel Jones and guitarists David Bassey and Elliot Bradfield) remain humble, never straying too far from their roots.
"[It's our] energy more than anything. I don't think we're particularly good players, except for Ben and Tom, there's nothing fancy going on," Bassey says, describing what sets them apart from other bands. We chat with himself and fellow guitarist Bradfield on bitterly cold yet blindingly sunny January lunchtime over Zoom. The two of them are refreshingly laid back, unintentionally funny, and glimmering with a down-to-earth energy.
Their debut record, Get Real landed on Friday 13 January, but despite it being a date that is said to be notoriously unlucky, the album has already earned a fantastic reception from fans who are eager to see them play at their upcoming headline tour in April, and even perform a set at Bonnaroo Festival in the US this June.
"It's less technical, more feel," Bradfield says of the album's guitar work, comparing their solos to that of George Harrison's. "He wasn't a great guitar player, which might piss some people off for saying that, but technically he wasn't super skilled."
The two of them agree that their collective attitudes towards this record were what made it so tight, noting that spending eight hours on the road in the back of a van to play shows has made them realise they can "have fun doing anything".
And Get Real encapsulates that spirit for sure – CVC didn't set out to make anything political or convey any particular messages with this album: "We didn't really have any expectations for it," reveals Bassey. "We were just freeballing all the way through. It was very relaxed, experimental, very DIY, like, 'let's bash this mic in front of that and see what happens'."
So where did things begin for the two guitarists? It appears that, like many of us, it was sitting before YouTube or lugging a guitar into school to learn grades. "I switched over to guitar from piano 'cause it was more cool. When you're 11, no one wants to play piano do they? Everyone wants to be like Slash – I wanted to be like Ben Howard," Bradfield says. "My grandad got me a £15 quid guitar from Argos, I got straight on YouTube [and used] Marty Schwartz' guitar lessons," We chuckle for a moment, reflecting on how Schwartz' tutorial videos are the backbone for many self-taught learners. "Marty Schwartz goes hard to be fair," Brafield declares. "He's a legend. He taught me bangers like Sweet Child 'O Mine."
Bassey, on the flip side, took the more professional route: "I had guitar lessons when I was about 12 until 17 or 16, a good few years. I'm trying to transition from being a great guitar player to being a great songwriter now, so I'm kind of switching goals. I used to wanna be able to play all the solos and now I wanna be able to write good songs."
For their current set up, Bassey plays a Telecaster: "I had a custom one made for me for my eighteenth birthday that my Dad got me. It has Bare Knuckle pickups in, three of 'em, so it's wired like a Stratocaster, but has the body of a Telecaster, with a Bigsby. I literally just play that into a [Boss] Blues Driver, into my Fender Deluxe Hot Rod amp. [I use a] bit of chorus now and then, and Big Muff."
Image: Press
"I'm using whatever has strings on it at the moment," Brafield chuckles. "They're all over the shop but my fave go-to for the band is my Gretsch. I don't know what model it is, but I picked that up from PMT with my student loan in my first year of university. I blew all of my loan on that guitar."
Apart from also using a Blues Driver, Bradfield is a fan of his Strymon Timeline Delay, which he brands "absolutely bangin'". He adds, "I normally take a walk down town and look in Cash Generator and see if there's any pedals in there. I found a vintage Japanese chorus pedal in there a couple of weeks ago and that's gonna work its way into album two probably."
With work on their second record already underway, CVC are on the cusp of something great, and they just know it. But it's still tricky to convey to people how important the band is to them. Bassey admits, "I still think to this day there's a lot of people around us who think we're just doing it for a laugh. It's very hard to put the point across of how committed we are and how close we are with bigger things."
He advises those in the same position as they were as teens to prepare for several years of hard graft: "For, I don't know how many years, we had nothing. Nobody was biting which is really disheartening knowing you've put your heart and soul into it. Just write songs, don't let people say that your songs aren't good, even if you think a song isn't good just finish it. Even if your friends think you can't sing, can't play guitar just say, 'hey man, fuck you!'."
Bradfield weighs in, "Music is a labour of love if you're doing it to become big overnight, it could happen, but it's not the well-worn path… that's not the saying is it? It is now," The two of them break up the heartfelt chat with a patch of laughter. "If you're doing it 'cause you love it that's what will show in the music. Dave is one of my biggest inspirations for songwriting. That boy can write so many songs in a day alone! [And he's] just doing it cause he loves it – that's what matters."
The two of them gush over each other as we sit soaking up their wholesome moment.
Image: Press
"Thanks man, appreciate it!" Bassey beams.
But the tide is finally turning for CVC, more and more can see that this is some serious shit, and not your average hobby. "There's always gonna be some doubters but for me that's a sign you're on the right path," Bradfield says. His father is a long-time reader of Guitar.com (hey, Dad!), and he notes that even chatting with us now is a big moment for him as a guitarist.
As CVC infiltrate huge festival bills and leave their mark on the world of guitar, there's not much left for them to prove. All they can do now is have copious amounts of fun, so if you're hoping to catch them on the road, Bassey says that if you come away with a smile on your face, then "that's what it's all about" – it's as simple as that.
CVC's Get Real is out now.
The post Meet CVC: The no-nonsense, small-town psych rockers making big noise in the world of guitar appeared first on Guitar.com | All Things Guitar.
Source: www.guitar-bass.net