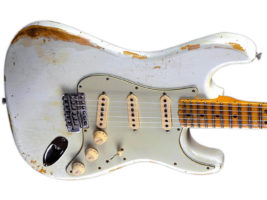 Kinman launches Gen-2 Stratocaster pickup line
Six noiseless pups that serve up classic Strat tones.
Kinman has unveiled six new Zero-Hum Gen-2 single-coil pickups, designed to capture the signature Stratocaster tone with minimal hum.
One of the standouts of the batch is the Impersonator E56. According to the brand, this single-coil's tone is modelled on the hallowed cleans of an original 1956 Strat pickup. It uses a modified alnico V rod magnet – with 65 per cent of the magnetic pull of regular alnico Vs – that Kinman claims encourages longer sustain.
Otherwise, the E56 and the other new pickups are similar to those in Kinman's Gen-2 range. These deliver a tone that's inspired by the sound of non-aged vintage Strat pickups. Or, in Kinman's words, they have "the same crystalline high frequencies, snappy attack, scooped mids and dynamic range as the best non-noiseless single coil pickups".
The six pups can be combined in different configurations. Here are the other five:
The Scoop
Low output
Modelled after a '76 Strat pickup
Impersonator E69
Low to medium output
Modelled after a '69 Strat pickup
Impersonator E54
Medium output
Modelled after a '54 Strat pickup
Texas Jalapeno
High output
Produces a beefier, snappier twang with sizzling highs
Big-Nine-O
Very high output
Produces a huge sound that pairs well with humbuckers and P-90s
Retails at $98 (single) and $290 (set). More information at kinman.com.The post Kinman launches Gen-2 Stratocaster pickup line appeared first on The Guitar Magazine.
Source: www.guitar-bass.net