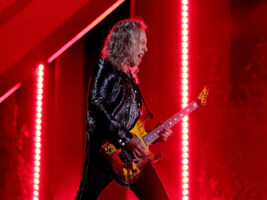 Kirk Hammett buys 'unicorn' Les Paul, says Greeny is "a little jealous"
Metallica's Kirk Hammett has bought one of the rarest Les Pauls in existence, a black 1959 Les Paul Standard featuring a Bigsby vibrato.
READ MORE: Dave Mustaine says Kiko Loureiro is a better guitarist for Megadeth than Marty Friedman
Showing off his new purchase in an Instagram post, Hammett wrote, "This is one unique, amazing sounding guitar," adding that he procured the instrument at Carter Vintage Guitars, Nashville. "By the way, Greeny is a little jealous," Hammett concluded, referring to his sunburst 1959 Gibson Les Paul Standard, famously known as Greeny.
Hammett's new guitar is considered extremely rare, to the point of unicorn status, as Les Pauls were not made in that colour during that time period. Carter Vintage Guitars explains that Hammett's guitar came into being thanks to a Custom request by Joseph Arena, who wanted a Les Paul to match his Tuxedo.
The request was submitted to Sam Ash in Hempstead, New York, who sent on the request to Gibson's headquarters.
View this post on Instagram
A post shared by Kirk Hammett (@kirkhammett)
The last available Gibson Custom Shop Collector's Edition Kirk Hammett "Greeny" 1959 Les Paul Standard was snapped up late last year by actor Jason Momoa, capping off the run that only featured 50 available units. Modelled after the iconic 1959 Burst – first owned by Fleetwood Mac's Peter Green, before being passed down to Gary Moore and, more recently, handed over to Hammett.
Hammett even lent the Greeny to Murphy Customs for the run so the final result would resemble the original as closely as possible.
The post Kirk Hammett buys 'unicorn' Les Paul, says Greeny is "a little jealous" appeared first on Guitar.com | All Things Guitar.
Source: www.guitar-bass.net