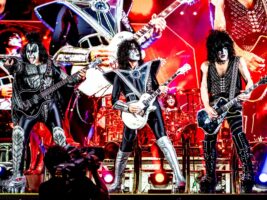 KISS' longtime manager says final show of 'End of the Road' tour will happen in 2023
KISS' long time manager Doc McGhee has said that the final show of the band's "End of the Road" tour will definitely take place this year.
READ MORE: Brian May on why Queen will never play Glastonbury
This news comes after repeated reports from the band themselves that KISS was "far from done", with frontman Paul Stanley stating that "I'd like to say that this is the end of the road, but they keep paving more road".
Gene Simmons even recently admitted that they plan to add another 100 cities to their expansive itinerary.
McGhee spoke to Podcast Rock City, noting that the last show of the tour will be finalised in the next few days, with the announcement coming soon.
"One thing about KISS, we've always been that band that went to places where most bands didn't go. So we play everybody's town… You name it, we've played there. So we always go where the people are anyways. The reason why we're continuing doing this last [run] is because obviously the pandemic has stopped us from finishing. And the fact that people just wanted to see us. But we had to end it at some time, which will be this year."
"There's a lot of talk about everything. And nobody knows what's gonna happen in the future. So what we've kind of put in our minds is let's go through this like this is the end of KISS as we know it. And whatever comes our way, with technology and everything else, we'll look at it. Will be Gene and Paul out there in makeup. No. I can tell you that. They're hanging their hats up after the [final] show, which is gonna be very, very difficult and very emotional for them after 50 years of doing this. And they love it."
Hopefully the news of their final show will quieten Twisted Sister's Dee Snider, who recently called out the band over their "fake farewell bullshit," noting that it is "impossible to miss a band when they refuse to go away."
The post KISS' longtime manager says final show of 'End of the Road' tour will happen in 2023 appeared first on Guitar.com | All Things Guitar.
Source: www.guitar-bass.net