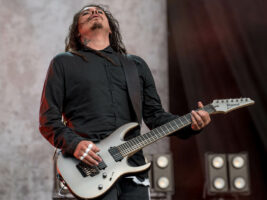 Korn guitarist Munky launches electronic music project, Venera
Korn guitarist and co-founder James "Munky" Shaffer has launched an electronic music project with composer and filmmaker Chris Hunt.
The duo, called Venera, are set to release their debut self-titled album on 13 October later this year.
READ MORE: Trivium's Paolo Gregoletto thinks nu metal is "a very, very bad genre"
The pair released their first single of the project back in late July, titled Swarm, and now lands another brand-new single, Hologram, which features VOWWS. "Hologram emerged quickly from our first session together," Munky says in a statement (via EDM).
"A nearly unchanging drum machine pattern nested in warbling guitars. We don't interact much with holograms but they seem to offer an image of an alluring emptiness and light, which resonates well with the universe we are driven to explore."
Check out both singles below:
The album is also set to feature drumming from Deantoni Parks (John Cale, Mars Volta), as well as vocals from Alain Johannes (Queens of the Stone Age, Eleven) and HEALTH's Jacob Duzsik. The full track list is as follows:
Alignment
Erosion (ft. Deantoni Parks)
Ochre (ft. HEALTH's Jacob Duzsik)
Swarm
Disintegration (ft. Deantoni Parks)
Hologram (ft. VOWWS' Rizz)
Surrender
Triangle (ft. Alain Johannes)
Helium
Korn released their latest album Requiem back in February of 2022, with a deluxe edition landing a year later in February 2023. Speaking to Guitar.com following the release, fellow Korn guitarist Brian Welch said of the record, "You can only feel that heavy cloud above you for so many years.
"I love this album because it has a healing vibe. It's got more positivity than past Korn records and it's more vulnerable," He added. The band are also set to perform at Aftershock festival in Sacramento, CA, on Saturday 7 October this year.
Find out more about Venera via their official website.
The post Korn guitarist Munky launches electronic music project, Venera appeared first on Guitar.com | All Things Guitar.
Source: www.guitar-bass.net