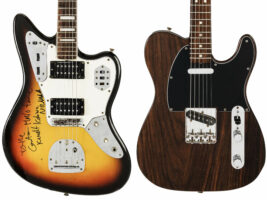 Kurt Cobain-signed 1966 Fender Jaguar and Elvis Presley's Rosewood Telecaster to go up for auction
A signed 1966 Fender Jaguar owned by Kurt Cobain and Elvis Presley's Rosewood Telecaster are set to go up for auction.
Presley's 1968 Telecaster prototype previously appeared on the sales circuit last year. It was listed on Reverb last November with an asking price of $295,000 (£227,946).
The Tele is said to be one of six prototypes and a sister model to George Harrison's well-known example. He had used the guitar intermittently for a few months and supposedly had sent it back to Eddie Miller, Fender's Nashville rep at the time, because the guitar was too heavy for him.
The guitar is said to be in excellent condition and comes with a handful of letters written by Hal Blaine, Harold Bradley (former president of the Nashville Association of Musicians), and Miller himself, confirming the guitar's authenticity.
Meanwhile, Cobain's guitars have frequently appeared on the auction circuit, two of which – the Martin D-18E used for Nirvana's famed MTV Unplugged set and his Smells Like Teen Spirit Fender Mustang – and have been the most expensive guitars ever sold at auction. Those guitars were sold for just over $6 million and $4.5 million, respectively, last year.
The '66 Jag bears the inscription 'To the Guitar Hall O Fame' as well as Cobain's signature and comes with certificates of authenticity composed by authenticator Roger Epperson and PSA Authentication Services.
The guitar isn't expected to sell for as much as the D-18E and Mustang did last year, because it doesn't have the same level of historical importance, though considering a pick used by Cobain during the Nevermind sessions sold for over $14,000 earlier this week, you can bet the final price will still be pretty high.
Heritage Auctions' catalogue also features a 1989 Fender Stratocaster signed by both Jimmie and Stevie Ray Vaughan and a Gibson Sonex signed by various players  such as Steve Vai, Adrian Belew, Al Di Meola, Eric Johnson, Vivian Campbell, Warren Haynes, and many others. A range of vintage Gibson Les Pauls are also being auctioned off.
The auction will go live on 24 July and run till 11 August. For more info, head to Heritage Auctions.
The post Kurt Cobain-signed 1966 Fender Jaguar and Elvis Presley's Rosewood Telecaster to go up for auction appeared first on Guitar.com | All Things Guitar.
Source: www.guitar-bass.net