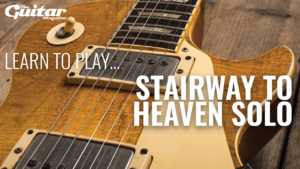 Learn To Play… Stairway To Heaven Solo
Learn to play the solo to Led Zeppelin's iconic Stairway To Heaven with the help of Ollie from Your Guitar Academy.
Arguably the most iconic guitar solo of all time, Stairway To Heaven soon become the most requested song on FM radio in the US throughout the 1970s and made Jimmy Page a household name. Jimmy Page played the solo on his '59 'Dragon' Telecaster into a Supro amp. To see more from Ollie and Your Guitar Academy, including tuition and tips, head over to their website at
_
If you like this lesson and want to check out more from Your Guitar Academy please check out their free online guitar lessons here. They also have top class guitar tutors teaching for us various locations in the UK. Here are the links to all of their locations, simply pick the closest to you:
guitar lessons bathguitar lessons belfastguitar lessons birminghamguitar lessons brightonguitar lessons bristolguitar lessons cardiffguitar lessons chesterfieldguitar lessons derbyguitar lessons dublinguitar lessons edinburghguitar lessons glasgowguitar lessons leedsguitar lessons liverpoolguitar lessons londonguitar lessons manchesterguitar lessons nottinghamThe post Learn To Play… Stairway To Heaven Solo appeared first on The Guitar Magazine.
Source: www.guitar-bass.net