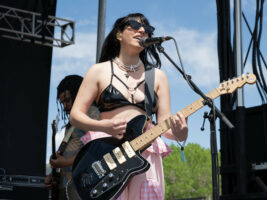 Mannequin Pussy launch their own record label, Romantic Records
Philadelphia band Mannequin Pussy have announced the launch of their own label, Romantic Records.
READ MORE: "It's the greatest wah that's ever been f**king made": Kirk Hammett reveals his favourite wah pedal ever
Sharing the news in a social media post, the group says that the label's first release will be a limited edition vinyl reissue of their 2016 LP, Romantic, which has long been out of print. Romantic was originally released on Tiny Engines, but the band was able to buy back their masters from the record label last year.
"Huge thanks to Tiny Engines – first for being among our first supporters and for their early belief in our music and secondly for giving us this opportunity," Mannequin Pussy wrote. "Thank you to everyone who has been part of our musical lives and who has loved and supported this record."
View this post on Instagram
A post shared by Mannequin Pussy (@mannequinpussy)
The band, who's currently on tour in the US, previously spoke to Guitar.com about how the COVID-19 pandemic had hurt them creatively and financially.
Recalling the time where shutdowns and pandemic anxiety were at its peak, vocalist and guitarist Marisa 'Missy' Dabice said, "As we understood more and more of what was happening, I began to feel emotionally paralysed by it. There was the reality that we'd lost our main form of income, we missed out on some of the biggest opportunities we've ever had as a band."
"We were on track in financial terms to have our most successful year ever. And then all of that went and suddenly we're home in the same position as millions of other people. From then it was set into a numbing state. When you're numb you can't create."
"It was a weird thing about the pandemic where, for a lot of us, we had been touring so much that it was very confusing and bizarre," bassist Colins 'Bear' Regisford added. "What does the future hold? A break is nice, but this is not the kind of break we wanted. People are dying. People are losing their jobs. It was scary to be creative. We were like, 'Shall we even go into the studio?"
The post Mannequin Pussy launch their own record label, Romantic Records appeared first on Guitar.com | All Things Guitar.
Source: www.guitar-bass.net