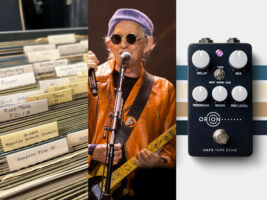 The Week In Guitar: Ancient blueprints, cryptic Stones clues and downsized UAFX pedals
Time for The Week In Guitar, the best way of keeping up do date with all things guitar culture. Don't have time to read every news story, interview, forum thread and Instagram post? We've got you covered!
Gibson gets lucky on eBay
View this post on Instagram
A post shared by Mat Koehler (@matkoehler)
Gibson has managed to recover a whole host of schematics, blueprints and other technical documents after a very lucky eBay find. As VP of Product Mat Koehler explained: "We recovered the entire Gibson Brands amplifier and effects archive from 1936-1969… filled with schematics, blueprints, parts lists, work instructions, promo photos, frequency analyses, notes, memos, and more."
We all know how much Gibson values its legacy products – but one area where they haven't really inundated us with reissues is the amplifier department. Is that about to change?
The Rollings Stones advertise 'something' with a cryptic newspaper advert
Anyone see this? An ad ran in Hackney Gazette for a company called Hackney Diamonds teasing Rolling Stones song titles. Their est. date is 1962, same year Stones formed. Website seems to be run by Universal Music, the Stones' label. A clue their long-awaited new LP is on its way? pic.twitter.com/DFSnb2WE48
— Simon Harper (@Simon__Harper) August 21, 2023
You don't need to be a Dan Brown protagonist to figure out that the above newspaper advert has more than a few things hinting at the Rolling Stones' involvement. But, the question remains: what's it promoting? Is the band finally releasing their long-awaited new album, or are they retiring from music to open an actual window repair shop? It's literally impossible to say.
Universal Audio goes affordable – sort of…
Alright, so this is still UA we're talking about, so 'affordable' means about $200. But for those who prefer a more straightforward stompbox experience, the latest compact UAFX pedals pack a number of UA's high-class emulations into a more manageable and, well, 'normal guitar pedal'-looking package, chopping $100 off the price to boot.
Quick Riffs:
James Hetfield enforces some concert etiquette – for some reason, concertgoers have been having a bit of a mad one lately, throwing cakes, iPhones and their mum's ashes at artists. James Hetfield, however, was quick to nip that sort of thing in the bud by telling an audience member to "get the fuck down!", presumably before they frisbee'd a large Dominos pizza at Lars.
Tom Delonge thinks the US was right to withhold information about UFOs – whatever is actually going on with that whole thing is beyond the remit of Guitar.com, but it's always good to hear rock music's resident ufologist weigh in on things. This time, he compared the US' secrecy on the topic to the Manhattan Project: shady and weird, but probably for the best overall.
The Gear Page users have a five-page discussion as to whether tuning a semitone down is called D# or Eb.
Quote Of The Week:
"I like to think of when we wrote this song, it was like the immaculate conception"
Introducing the debut live performance of Guns N' Roses' Perhaps, frontman Axl Rose both tempered expectations and set a pretty high bar. On one hand, he warned that he still needed to figure out how to sing the thing live. On the other, he compared its writing to the conception of Jesus Christ. Make of that what you will.
The Encore
It's a collaboration between two pedal-demoing legends: Emily Hopkins and Knobs hung out, and made some gorgeous music with plenty of Chase Bliss pedals to boot, and chatted all things pedal demo-y.
The post The Week In Guitar: Ancient blueprints, cryptic Stones clues and downsized UAFX pedals appeared first on Guitar.com | All Things Guitar.
Source: www.guitar-bass.net