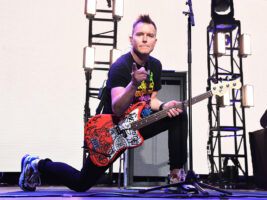 Mark Hoppus shares heartening update on cancer treatment: "The chemo is working!"
Mark Hoppus has shared a heartening update regarding his cancer treatment, saying "scans indicate that the chemo is working!"
The 49-year-old musician shared the good news in a tweet on Monday (19 July). "I still have months of treatment ahead, but it's the best possible news," he wrote.
"I'm so grateful and confused and also sick from last week's chemo," he said. "But the poison the doctors pump into me and the kind thoughts and wishes of people around me are destroying this cancer."
pic.twitter.com/1MhfxvTXVh
— ϻ𝔞Ⓡ𝔨 𝐇𝑜Ƥ𝐩ย𝓼 (@markhoppus) July 19, 2021
Earlier this month, the Blink-182 bassist-vocalist, who went public with his cancer diagnosis last month, revealed to fans he was meant to undergo a test that "may very well determine if I live or die".
"I'm going to beat this through chemotherapy or through bone marrow transplants," Hoppus tweeted at the time. "But either way I'm determined to kick cancer's ass directly in the nuts."
to beat this through chemotherapy or through bone marrow transplants, but either way I'm determined to kick cancer's ass directly in the nuts. Love to you all. Let's. Heckin. Go. pic.twitter.com/6ih3AEJq7y
— ϻ𝔞Ⓡ𝔨 𝐇𝑜Ƥ𝐩ย𝓼 (@markhoppus) July 11, 2021
Hoppus also revealed his cancer to be located in his lymph nodes. He has been diagnosed with 4-A diffuse large B-cell lymphoma which, as noted by Consequence Of Sound, is the same type of cancer his mother had successfully overcome.
Musicians have taken to social media to celebrate the good news, including Wolfgang Van Halen who tweeted: "Fuck yes!! You got this, dude"
Aaron Pauley, bassist-vocalist for Of Mice And Men, also tweeted: "This makes me so incredibly happy! Keep up the fight my dude!"
The post Mark Hoppus shares heartening update on cancer treatment: "The chemo is working!" appeared first on Guitar.com | All Things Guitar.
Source: www.guitar-bass.net