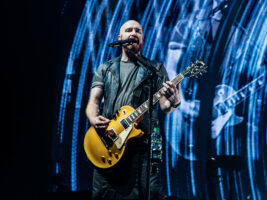 Mark Sheehan, guitarist and co-founder of The Script, dies at 46
Mark Sheehan, guitarist and co-founder of Irish pop-rock band The Script, has died at the age of 46.
The band broke the news of Sheehan's death in a statement on their social media pages on Friday (14 April): "Much loved husband, father, brother, bandmate and friend Mark Sheehan passed away today in hospital after a brief illness. The family and group ask fans to respect their privacy at this tragic time."
View this post on Instagram
A post shared by The Script (@thescriptofficial)
Last year, lead singer Danny O'Donoghue told Sunday World that Sheehan had taken a break from The Script's US tour to spend time with his family.
"He's been the engine of The Script for such a long time, [I told him] that 'if you want to take a bit of time out for your family you are more than welcome to, and I insist on you going and doing it'."
He added that the group were supportive and described them as "a band of brothers" who "stick together no matter what".
Sheehan later returned on stage on some of their Ireland shows. The group is also due to join American popstar P!NK at dates across the UK and Europe later this year.
The Script was formed in 2001 with Sheehan as guitarist, Glen Power as drummer, and O'Donoghue as the band's frontman slash songwriter. Their eponymous debut album was released on 8 August 2008, and went on to claim the number one spot on the UK's album charts.
Tributes from fellow artists and fans have since poured in, with former Westlife singer Brian McFadden describing the news as "devastating".
"Mark was one of the good guys!" he said.
Irish singer Hozier wrote: "So saddened to hear about this. Thinking of you all and of Mark's family right now and sending love. Sincere condolences to you all."
Ireland's president Michael D Higgins has also honoured Sheehan as an "outstanding" example of Irish musical success on the world stage.
"It was a mark of the originality and excellence that Mark and his bandmates in The Script sought that they saw such success across the world, including six number one albums in the UK and a number three album in the United States – a truly remarkable achievement," he said.
Read more tributes below.
Devestating news. Mark was one of the good guys! https://t.co/iHTq7SaKWo
— Brian mcfadden (@BrianMcFadden) April 14, 2023
This is how I'll remember you Mark. Miss you already bud, thank you for the chats, advice, opportunities, fun and madness – Px @thescript pic.twitter.com/4qoMGhbuj4
— Peter Neill (@ShootTheSound) April 14, 2023
I can't BELIEVE this he will be so missed one of the nicest best dudes I've ever had the pleasure of touring with and hanging with. This is horrible
— Ryan Tedder (@RyanTedder) April 14, 2023
Rest In Peace Mark Sheehan pic.twitter.com/Q8LnPyQcDn
— Ben Sargeant (@benjaminsarge) April 16, 2023
Rest in peace Mark Sheehan.You will be forever loved, always missed and never forgotten.Thank you so much for the music and for being you.Sending love to your family, your friends, your brothers in The Script and your fans.#MarkSheehan #TheScript @thescript #allontheboard pic.twitter.com/bvi7RHrQpa
— All On The Board (@allontheboard) April 15, 2023
Mark Sheehan from "The Script" sadly passed away today, years ago after a writing session,he wrote on my Studio door, i thought i would share what he said pic.twitter.com/VqHJmWRWpT
— Steve Kipner (@stevekipner) April 15, 2023
We are deeply saddened to hear the news about the passing of our beautiful friend Mark Sheehan. Sending all our love and prayers to his and @thescript family at this time. Thinking of you allG, H & M
— Take That (@takethat) April 15, 2023
My heart is broken…
Prayers to Mark's spirit & family…https://t.co/3V3jHPn7cy
— will.i.am (@iamwill) April 16, 2023
The post Mark Sheehan, guitarist and co-founder of The Script, dies at 46 appeared first on Guitar.com | All Things Guitar.
Source: www.guitar-bass.net