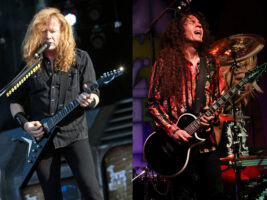 Marty Friedman denies rumours of bad blood between him and Dave Mustaine
Ex-Megadeth guitarist Marty Friedman has shot down rumours of bad blood between him and his former bandmate Dave Mustaine.
READ MORE: Josh Scott reveals the 'most unique' distortion pedal he's seen "in decades"
The pair recently reunited when Friedman joined the metal band onstage during their show at the famed Budokan Arena in Tokyo, Japan, playing three songs — Countdown to Extinction, Tornado of Souls, and Symphony of Destruction.
Asked how the selection process for those three songs went during his appearance on The Jasta Show, Friedman replied, "It was so organic. It was like two buds in high school talking about, 'Let's go jam.' It was so incredibly casual. And I think that's the way it should be, really."
"And we just talked about a couple of songs. I wanted to do two songs, and then Dave says, 'Why don't we do another song?' And I'm, like, 'Okay. That's great.' Yeah, so we did the songs that we did, and there was no real rhyme and reason to which songs we did. But it turned out just fine and we enjoyed the hell out of it."
The musician also noted that despite what the public might think, there's no ill feelings between him and Mustaine after his departure from Megadeth.
"The funny thing is there was really nothing between us ever in the time that we weren't playing together," he said. "And if there was, it was kind of like things that media… You know how they do these days — they'll take something that could possibly look negative out of a two-hour interview, and that'll be the headline."
"There was never anything between us in the first place. If either of us e-mailed each other, it would be totally casual. So it wasn't unusual to hear from Dave and say, 'Dude, we're playing Budokan. You wanna jam?' It was just completely casual."
"So there really never was anything — definitely nothing that I know of that was of any kind of juicy, newsworthy arguments between us in the first place. It's boring. But it is what it is."
The post Marty Friedman denies rumours of bad blood between him and Dave Mustaine appeared first on Guitar.com | All Things Guitar.
Source: www.guitar-bass.net