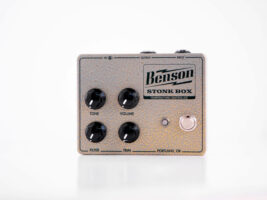 Benson Amps launches the Stonkbox, a thermally-biased Tonebender-style fuzz
Benson Amps has unveiled its second fuzz pedal, the Stonkbox, which captures 1960's fuzz design.
READ MORE: Benson Amps announces a new thermally-biased Germanium Fuzz
By bringing the fuzz design six decades forward, Benson Amps says it has eliminated original flaws and inconsistencies, but managed to still pack in all the character of a classic fuzz.
The Stonkbox follows on from the brand's Germanium Fuzz, which is also a thermally biassed pedal. Guitar.com scored it a perfect 10 when we reviewed it back in 2021. However, this new pedal is built upon the MK1 Tonebender fuzz from 1965, built by Gary Hurst.
Benson Amps says of the new pedal: "We set our eyes on the MK1 fuzz (which is itself a modified version of the very first fuzz ever). We kept the original controls (filter and volume), and added a tone control and a trim control to expand the palette of sounds available.
"Buffer and pedal order friendly (but with no pickup simulation, we had to tweak the output circuit this time). The original circuit is considered one of the hardest of the classic fuzzes to get right because of the difficulty in transistor selection…with our patented technology we can do it easily and consistently…for the first time ever!"
Check it out in play below:
The pedal's ​​automatic thermal bias technology means that the bias of the transistors inside it are automatically regulated. This works via a circuit that gently warms the germanium transistors (2N404 OR 2N527) to a preset operating point using analogue components, and "ensures a consistent sound, no matter the external temperature".
In simpler terms, this pedal can operate between freezing and 100F (but might still sound fine outside this range, up to about 120F where germanium will cease to function) due to its thermal wizardry.
The Stonkbox is available for $279.00. Find out more at BensonAmps.com.
The post Benson Amps launches the Stonkbox, a thermally-biased Tonebender-style fuzz appeared first on Guitar.com | All Things Guitar.
Source: www.guitar-bass.net