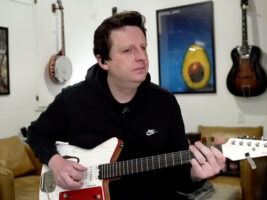 Josh Scott reveals the 'most unique' distortion pedal he's seen "in decades"
A new contender has made its way onto JHS Pedals founder Josh Scott's distinguished list of recommended pedals, and this time, you too can get your hands on one.
READ MORE: ESP welcomes Mick Thomson of Slipknot to its artist roster, confirms new ESP/LTD signature model in the works
Introducing the Korg Nu:Tekt Harmonic Distortion, which Scott calls "the most cool and unique distortion device I've seen in decades".
Announced just this January, the HD-S is engineered by Fumio Mieda, the Japanese inventor behind the legendary Univibe. The pedal arrives in the form of a build-it-yourself kit that hosts three different distortion circuits.
"It's super, super fascinating," Scott explains. "They're made to be built by you. You don't have to solder. You don't have to know how to do anything, you just have to pop them together."
"This thing immediately caught my attention," he says. "I've seen everything. I mean, literally, at this point. It's pretty daunting to try to find something that's not incredibly similar to something or some topology… Very often when you see the claim of an 'original' effect, it's like 'Is it?' This feels so different."
As Scott demonstrates, the HD-S is no typical distortion pedal. It features three harmonic trim pots that can be adjusted to produce a wide range of sounds from the classic to the atypical, ranging from distortion to fuzz and more.
"They all interact. The pedal has a sound. You're not going to go from Bluesbreaker to Metal Zone, that's not going to happen. It has a distortion characteristic. I would put it somewhere between a killer DS-1, a little bit of RAT, all the way to a Univox Superfuzz — and that's insane. I know what I'm saying is insane, but it's the interaction here," he says.
And the best part? Unlike the DigiTech Bad Monkey (remember that?), the Nu:Tekt HD-S is still available for purchase — at a non-alarming, perfectly reasonable price of around $250, that is.
Learn more at korg.com
The post Josh Scott reveals the 'most unique' distortion pedal he's seen "in decades" appeared first on Guitar.com | All Things Guitar.
Source: www.guitar-bass.net