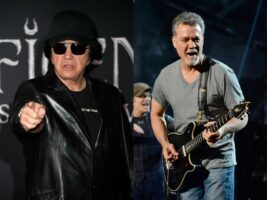 Gene Simmons says he "wanted to take Van Halen under the wings of KISS"
Gene Simmons has spoken about the first time he saw Eddie Van Halen and his band in action, and the way he immediately recognised the guitarist's greatness for what it was.
READ MORE: Joe Bonamassa on "the two Erics" who inspired his iconic guitar tone
Speaking to Classic Rock about his encounter with Van Halen at Hollywood's Starwood club in 1976, Simmons said, "I saw them that night and was left incredulous. I stood at the front of the stage and couldn't believe my eyes and ears. This was one man making all of these sounds with his bare human hands? Everybody in the band was singing and playing live and Eddie was a complete guitar symphony in his own right."
"In those early days Ed would sometimes stand with his back to the audiences because he didn't want to give his tracks away. But even if you saw how he played those licks, how could you possibly emulate them?".
"So I signed the band to my production company, Man Of 1,000 Faces, flew them to New York and produced a demo for them at Electric Lady Studios," the KISS rocker recalled. "If you Google the words 'Gene Simmons Van Halen demo' you can hear the song that I consider to be Edward's defining moment."
"The version of House Of Pain they recorded with me is the most powerful thing they ever did. It erupts from zero to 60mph in a second. Play it loud; it's like a steamroller over your face and the band performed it completely live in the studio."
However, despite the "quality of those tracks" they'd recorded, Simmons said it wasn't enough to convince Bill Aucoin, his manager at the time or his bandmate Paul Stanley to take interest in the band.
"And of course Ace Frehley and Peter Criss had bigger things on their minds, they were too busy making bad decisions about life," he added.
"I had wanted to take Van Halen under the wings of KISS. We should have signed them and taken them out on tour with us. Sadly, nobody else in our organisation saw it and of course months later Warner Brothers came by and scooped them up."
"And by the time Kiss went out on tour again they had taken The Kinks' You Really Got Me and made it into something that Ray Davies could never have imagined. They became superstars. And when that happened I was able to go back to my own band and say: 'I told you so, you morons'."
The post Gene Simmons says he "wanted to take Van Halen under the wings of KISS" appeared first on Guitar.com | All Things Guitar.
Source: www.guitar-bass.net