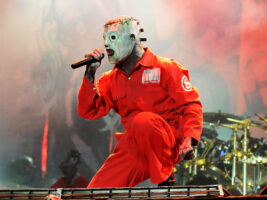 "I couldn't care less" Corey Taylor slams Rock and Roll Hall of Fame
Corey Taylor has revealed his less-than-fuzzy feelings about the Rock and Roll Hall of Fame, saying he "couldn't care less" if any of his projects make it in.
READ MORE: The Gear Used on Nirvana's In Utero
The artist was speaking to Jason Bailey of Audacy Check In, when he was asked which of his three projects — Slipknot, Stone Sour or his solo band — he'd want to be inducted into the Rock And Roll Hall Of Fame for. To which Taylor replied, "Oh, Jesus. I mean at this point, who gives a shit, really?"
"To be honest… It's hard for me to say that they get it wrong because sometimes the people they induct one hundred percent deserve it. [But] there's still so many groups that should go in before some of the ones that have. And it really upsets me, dude."
"So at this point it's, like, I don't even know if I'll even be considered for something like that, and I couldn't care less, to be honest. To me, that's a high-five at the end of your career. I would rather have that later on. It's just something I don't really concern myself with."
He continued: "Would I be a stingy hog and want to be like the late, great David Crosby and be in there like four times? That would be great. If I could be in there for all three acts, that'd be killer. But I don't think I'm even gonna get in for one. So it's fine. I've got better things to do."
This is not the first time the Slipknot frontman has publicly criticised the Rock Hall. Back in 2021, Taylor called the organisation "a pile of garbage" that "don't honour anything except pop music, really".
"They only really induct real rock bands when they have to cave to pressure. They disrespected so many bands over the past by putting others in before the ones that actually deserve it," he said, adding that he'd likely take the Sex Pistols route and "be like, 'Your Hall is a sham. I don't care if I'm a part of it or not. You have no idea what the spirit of rock and roll is actually about. So take this and shove it up your you-know-what.'"
The post "I couldn't care less" Corey Taylor slams Rock and Roll Hall of Fame appeared first on Guitar.com | All Things Guitar.
Source: www.guitar-bass.net