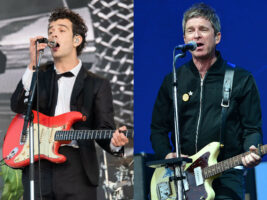 Matty Healy claps back at Noel Gallagher for calling him a "slack-jawed f***wit"
The 1975's Matty Healy has levelled a characteristically humorous response to Noel Gallagher calling him a "slack-jawed fuckwit".
In a solo performance prior to The 1975's main set at Dublin's St. Anne's Park yesterday (7 June), after playing a series of 1975 songs and other covers, Healy publicly thanked Coldplay and U2 members for their support of the 1975.
"Today — honestly, this is not a namedrop, this is a celebration of them as people — Chris Martin and Bono have sent us the most beautiful messages, packages, kind of good wishes," he told the crowd. "In honestly such a genuine way and it made us feel so beautiful."
This was before he turned his attention to Noel Gallagher's recent comments.
"Noel Gallagher called me a 'slack-jawed fuckwit'… I love Noel Gallagher," he said, to rapturous applause from the audience. "We asked Liam to open up and he said he would have done it but he was busy."
"But I love Noel Gallagher… He's just getting on," he added. "The difference between me and Noel is that I do a series of interviews to promote an album, whereas he does an album to promote a series of interviews."
Healy concluded his comments by doubling down on his stance that Oasis needs to reform: "But we love you Noel. Get Oasis back together!"
The recent interactions between Matty Healy and Noel and Liam Gallagher came when The 1975 leader, back in February, told the brothers to "grow up", put their beef to rest, reform Oasis and "headline Glastonbury.
"What are Oasis doing?" he said. "Can you imagine being in potentially – right now, still – the coolest band in the world, and not doing it because you're in a mard with your brother?"
Shortly thereafter, Liam Gallagher responded to Healy's comments. After a user on Twitter said Healy accused the brothers of "wasting [their] time", Liam replied: "It's our time to waste, who made him the boss of time?"
And last month, Noel Gallagher, who was seemingly unaware of Healy's comments until then, said: "Oh, that fucking slack-jawed fuckwit. What did he say? He needs to go over how shit his band is and split up."
In the same interview, Noel explained why an Oasis reunion isn't on the cards: "If Oasis hadn't fulfilled its potential, I might have a different attitude towards it. But as Oasis did everything it set out to do and more."
The post Matty Healy claps back at Noel Gallagher for calling him a "slack-jawed f***wit" appeared first on Guitar.com | All Things Guitar.
Source: www.guitar-bass.net